Waffles for a Design Hangover
Deep breath. Salone 2012 is over, and now Milan can go back to her usual beguiling, mysterious, grey self. It's been a massive overdose of design shot straight to the veins, louder and more brashly than the years before, as marketing continues to merge wholesale with what was once an unrestricted orgy of ideas. Parties and plastic, kitchens and corporate sponsors. So, the stark lull that usually follows design's biggest event here – a time at which Milan seems like a ghost town in comparison – is the perfect time to reflect upon the state of design behind the flash and fashion that inevitably has massive implications for both the built and natural environments. Did any instant classics emerge this time out? What does Milan mean nowadays? And, can we be hopeful for the near-future of design?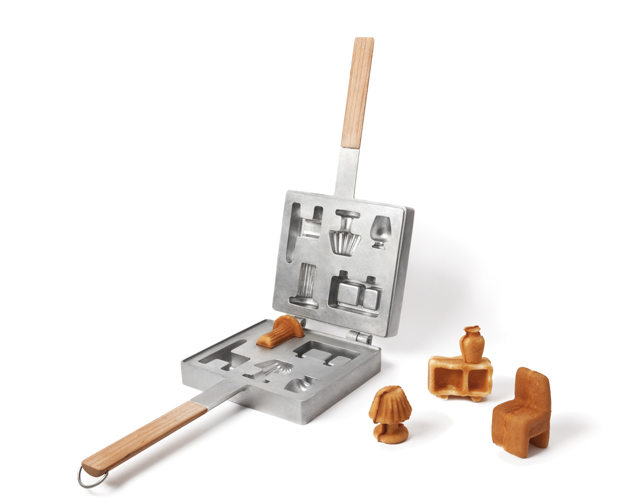 Our design editor, Rujana Rebernjak, waded through every last inch of the city over the course of the week and was almost universally disappointed. The lo-fi events at the Fabbrica del Vapore were a breath of fresh air, led by Alessandro Mendini's Milano si autoproduce, and were a welcomed escape from the buzzing commercialism of the fiera and Zona Tortona. But overall, these events were conspicuous in their infrequency, and in their being relegated to a ghetto in a far corner of the city. This was reinforced by the myriad exhibitions by Europe's top design schools, which led us (but certainly not only us) to question the sorry state of Italian design education. Standout schools from Switzerland, Scandinavia, the UK and elsewhere are producing far and away better designers, and while the great majority of these objects are still produced in Italy's world-class factories, it has never been clearer that the country is lightyears away from its golden years of frequent lightning bolts of genius. Where are today's Olivetti Valentine, Lancia Stratos or Fiat Panda, Castiglioni's gorgeous utilitarianism and off-the-wall genius in the style of the Memphis Collective?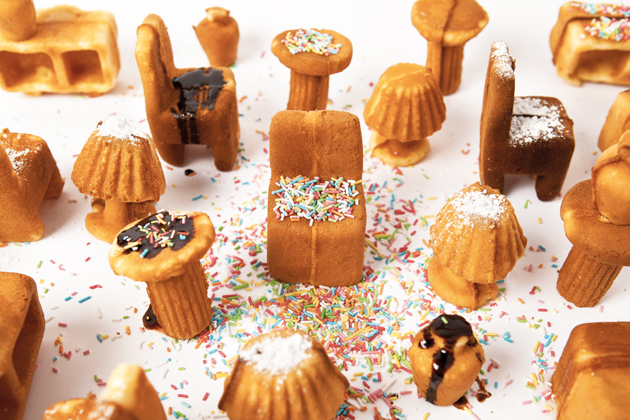 But beyond Italy's malaise, it seems a dismay at the throwaway, fast fashion zeitgeist of the modern furniture industry we ranted about in last week's editorial were spot on. Among the more contrarian designers at this year's event, there was tangible sense of dissatisfaction at the status quo, and several projects made snarky reference to the system they seem to feel trapped within.
At Ventura Runway in Lambrate, we found a tasty tongue-in-cheek project whose commentary probably best captured the discontent , "Sapore dei Mobili" by a Japanese/Portuguese partnership of Ryosuke Fukusada and Rui Pereira. Billed "furniture tasting," the project is essentially a clever waffle iron that allows its users to crank out (yummy) furniture in series (your own little countertop fabbrica). The designers say that "in this way, when the user gets full of his furniture, he just eats it." No waste. No guilt. And then he can "start all over again using a different recipe." That's certainly some mass production we can deal with. Chocolate! Cinnamon! Berry furniture! With frosting! Or sprinkles!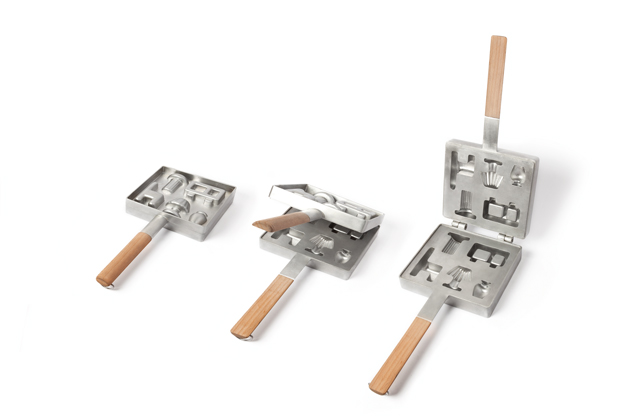 In any case, the impetus of the Sapore dei Mobili project is part of a wider discourse on design that seems at last to be catching on. It's one thing for jaded consumers to feel both overwhelmed by the frenetic pace and underwhelmed at the lack of innovation, but designers themselves are even rebelling against their system. Milan has two more years to make a massive impression on the design world before Expo 2015 will force in onto the global stage outside the insular universes of fashion and design. It's doubtful that those without an emotional connection to the city's design legacy will be quite as forgiving as every year's crop of design tourists are. And frankly, this year's Salone just didn't do it. Now it's hangover time. Eat your waffle furniture with tons of butter and syrup, and perhaps next year Salone will have come to its senses.
Tag Christof