.
William Kentridge / Galleria Lia Rumma
In the International Year for People of African Descent, the versatile South African artist William Kentridge (Johannesburg, 1955) has conquered Milan.
If – unfortunately – you missed the shows at Palazzo Reale (William Kentridge & Milano. Arte, Musica, Teatro) and Triennale (What will come, has Already Come) or the extraordinary version of the Mozart's opera the Magic Flute at Teatro Alla Scala, staged and directed by Kentridge, you still have the opportunity to see the genius of one of today's foremost contemporary artists at Galeria Lia Rumma in Milan.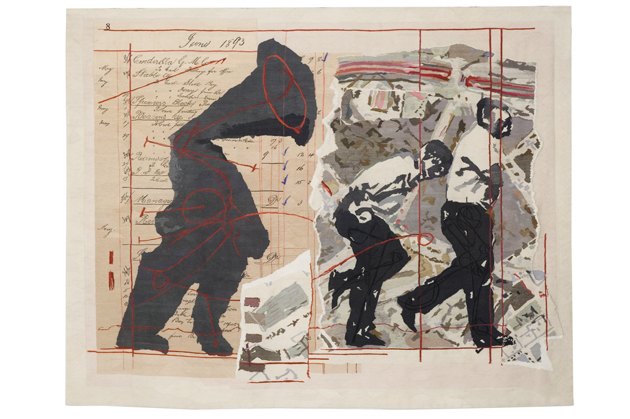 Man with Trumpet, 2010 – Tapestry by William Kentridge, woven by Marguerite Stephens Weaving Studio. Edition of 6.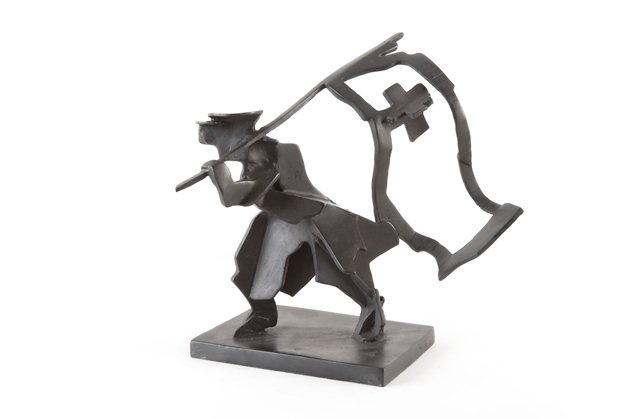 Man with Flag, 2008. Bronze. Edition of 20.
The ground floor of the huge art space hosts 8 video projections inspired by the political and social changes connected with the Russian Avant-garde and by Gogol's absurd satirical short story "The Nose," which influenced most of the works displayed in the show. A nose is, in fact, the subject of the small sculptures made of bronze, and a nose is the rider, who travels – mounting a Don Quixote-esque horse – across the fantastic lands depicted on the big tapestries hung on the walls of the first floor. Through his pieces the artist reflects his opposition to the legacy of apartheid in South Africa and his interest in culture of the 19th century and the turn of the 20th. From a pre modern context of writers and intellectuals like Büchner and Gogol he learnt how to understand and portray our chaotic era.
Kentridge uses different media and techniques and embraces all artistic fields: music, movie, theatre and sculpture convey in a total work of art that resume his poetic.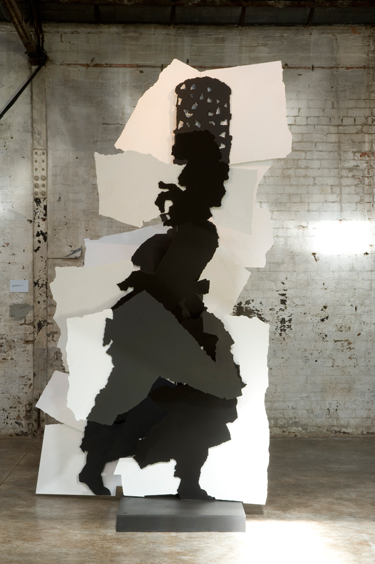 Fire Walker, 2009. Painted steel. Edition of 5.
On display at the second floor of the gallery, apart from the sculptures, there are watercolours – sketches for mosaics – Indian ink and charcoal drawings representing olive trees, mythological figures, motion picture cameras, self-portraits, noses and studies for the Magic Flute. The relationship between the drawing and the act of drawing is strong and brings directly to performance as much as tearing paper in small pieces and reassembling them in new shapes is strictly connected with mosaics.
A drawing is always the starting point for William Kentridge, because the flexibility of drawings is like the flexibility of thinking, they have the same speed for him. It is like think aloud.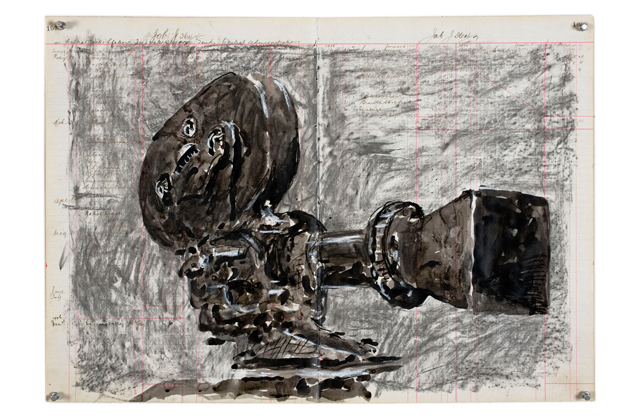 Camera (Central Boiler Station), 2010. Indian ink, charcoal and pastel on page from central boiler station ledger book.
The exhibition will run until May 14 at Lia Rumma Gallery, Via Stilicone, 19 Monday-Friday 10 am-1.30 pm/2.30-7.30 pm.
Monica Lombardi – Images courtesy Galeria Lia Rumma, All photos credit John Hodgkiss