.
Fifth Avenue Shoe Repair / Autumn 2011
From jersey cocoon to aluminium butterfly…"
In seven years, V Avenue Shoe Repair has gone from a small-scale jersey-experimenting designer duo to one of Stockholm's most intriguing couture houses. And one of Vogue Italia's design talents of 2010. All without abandoning its traditional craftsman ideals. Quite the contrary, in fact. With the recently revealed Autumn 2011 collection, The Shoe Repair duo, consisting of designers Astrid Olsson and Lee Cotter, has delved deeper into its own aesthetics than ever before.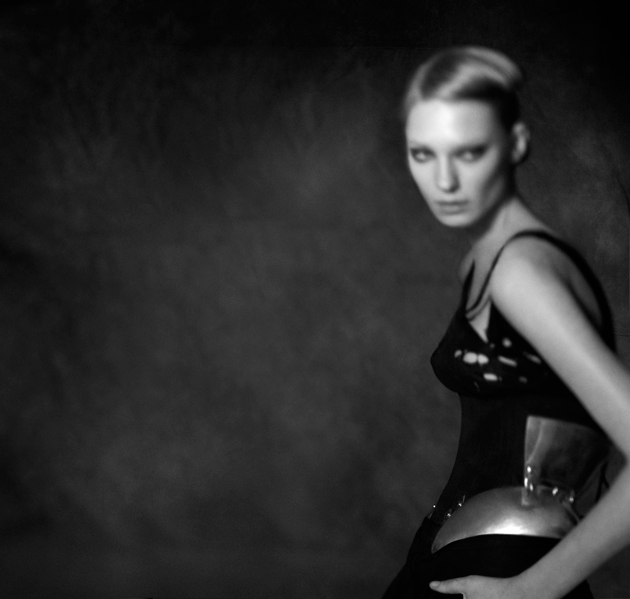 "We started to look what the great creative minds we admire had done before, and realised that…it wasn't close to our own idiom, which was kind of a blow…"
Olsson spoke during the recent Stockholm press event about how the team, in its home inside a 19th-century brewery, approached this new collection. They started by trying to use the old fashionable inspiration-tool. To the process, they added a hint of mint, and some strategic benchmarking. But in the end, the most crucial part of the collection's journey became the use of the archetype archive. By throwing a respectful eye into their own rear-view mirror, they could move their heritage forward. Bring new life to their own past.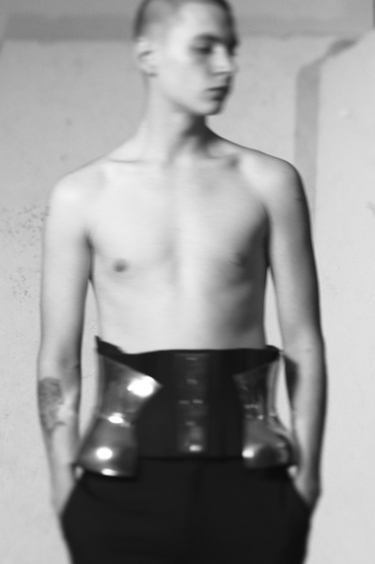 "We have realigned our priorities. We needed to deliver a stronger sensation and expression with the collection, we needed a new tone, a new voice."
Their usual cocoon-silhouette has been forced to make way for an edgier sex appeal, with a new focus on accentuating body parts instead of treating them as a unit. And where black has always been the label's dominating colour, some grey, beige and other neutrals have entered the picture.
"We realized that even though black is our signature colour, it creates an optical illusion but no details. We've worked with pale white, the shade you see before your eyes when squinting…"
The most significant parts of the collection are the atelier pieces all made of aluminium, originally intended to be made out of plexiglas. The hand made corsage is a collaboration with an art student located in Stockholm. We also find spiral shaped armlets, metal shoulder detailing, and a fringed top with aluminium edges.
This collection explores a new world of fabrics and materials. Besides old stalwart cotton, the periodic table is very much present, and represented by elements such as aluminium. Other than that, we find skyscraper platforms in rubber – with rabbit fur-details, some steel, plastic and leather.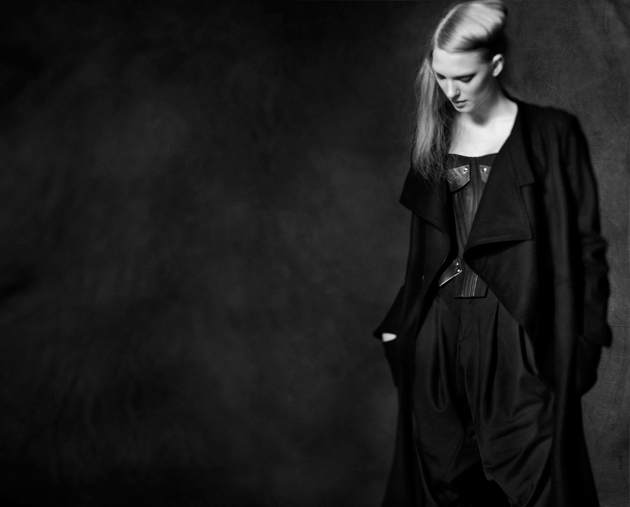 "I used to have the idea that stitchery was defined by the amount of time used in the process, but with this collection, I draped some pieces on a mannequin in 30 minutes…"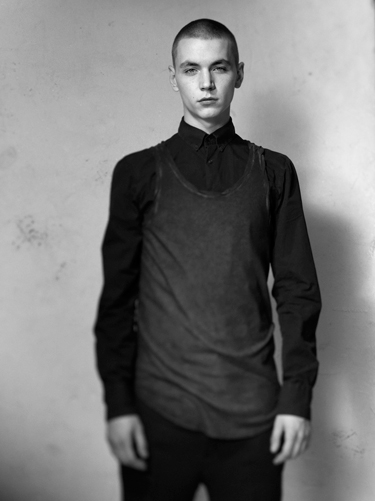 Highly advanced avant garde meets easy breezy draping-techniques – Olsson sums up the collection with these words. VASR are pushing the boundaries of minimalism, to the very sharp edges of a knife. Where they once drew a line between their prèt-à-porter and V Ave Shoe Repair By The No.-couture line, the boundaries are now much less clear… The usually arduous sewing-technics and materials such as cotton and wool are now sharing the runway with the atelier-designs. The "a button here, a pocket-there"-utility standard hooks up with a modern Pierre Cardin-fembot to unite in holy matrimony, utill the next collection do them part!
Petsy von Köhler – Images courtesy Fifth Avenue Shoe Repair