.
Essen: Delhi Chicken / Mysore Pack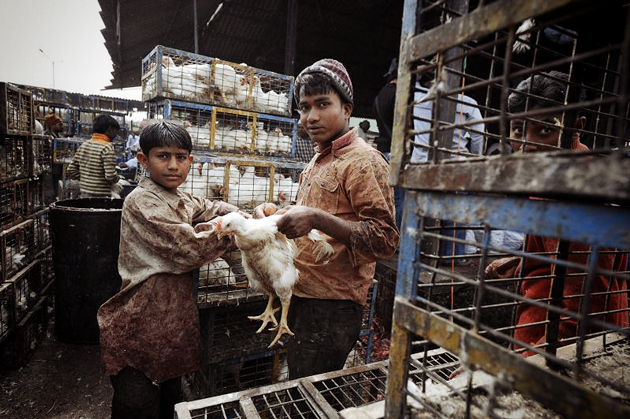 India is an infinite tapestry of overlapping cultures and opposing traditions, miraculously held together by inclusive policy and a long history. In the sprawling metropolis of Delhi alone, at least eleven languages are commonly spoken. Modernisation is widening the already massive gap between rich and poor, and international fashion, music and art is pouring into Indian culture at increasing speed. It comes as no surprise that India's food culture is equally as diverse, both in terms of the dishes themselves, as well as the religious and social customs that go into each cuisine's preparation.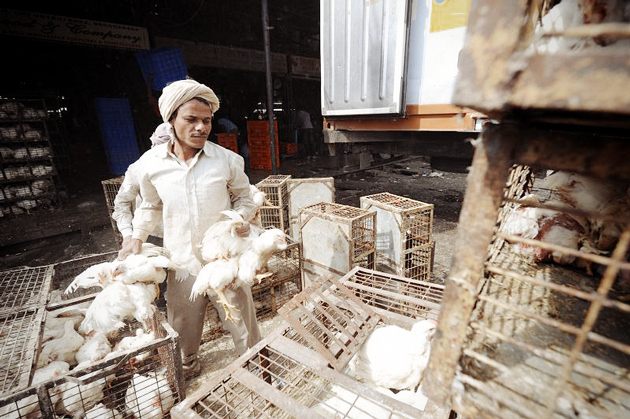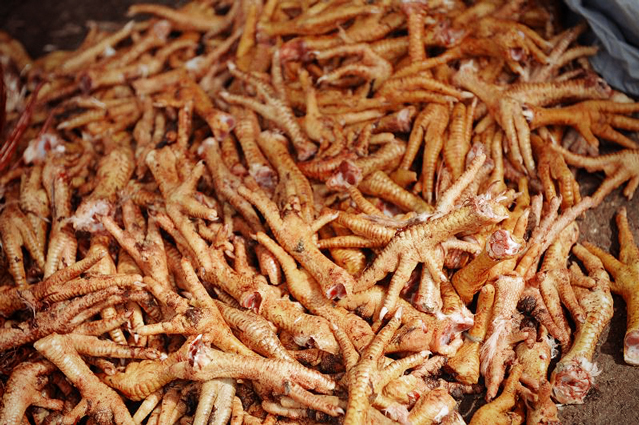 Sikh diets differ markedly from those of hindus or buddhists, and all can differ markedly even within the groups. Islam openly encourages vegetarianism, but for muslim carnivores Koran law requires that the meat they eat be slaughtered as humanely as possible. Factory farming is out of the question. India's vast muslim population, therefore, requires an alternative.
Somewhere deep inside the pulsating Delhi metropolis, hidden in plain sight adjacent to a massive food market, chickens are slaughtered in accordance to Koran tradition. This is a sophisticated operation despite its apparent lack of machinery, with upwards of two billion chickens passing through every year.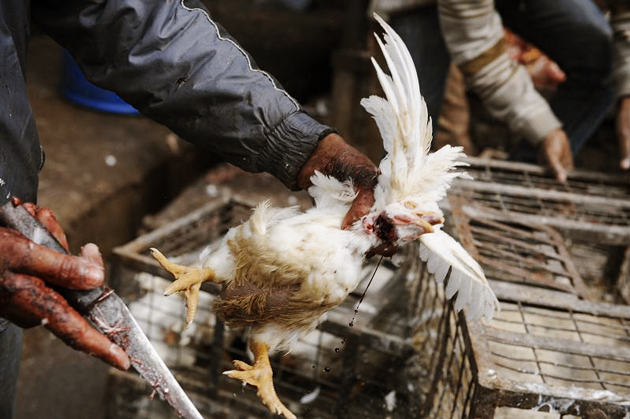 Italian photographer Vittore Buzzi managed the difficult feat of capturing these heroic scenes. Blood. Overpowering smells. His recounting of the story is both disorienting and revealing: this food preparation for a modern society, even when regulated by a religious law that forbids cruelty, is a gory, dirty affair. This type of work is livelihood for many and chicken is an excellent source of protein for millions, but the violence inherent in the process is something we usually don't give much thought to.
"The inner section of the market pulsates. Millions of terrorised chickens stare at you from cages, and the bitter odour of their excrements mixes with the sickly sweet smell of blood."
While they may be unsettling, Vittore's images provocatively raise the awkward issue of our tenuous relationship with food. Muslim or otherwise, most food crusaders today tirelessly advocate a more intimate relationship with everything we eat. But there is undoubtedly an awkward disconnect between informed consumerism and honest acknowledgement of our food's origins: knowing where your vegetables come from is one thing. Coming to terms with where your meat comes from is much more difficult.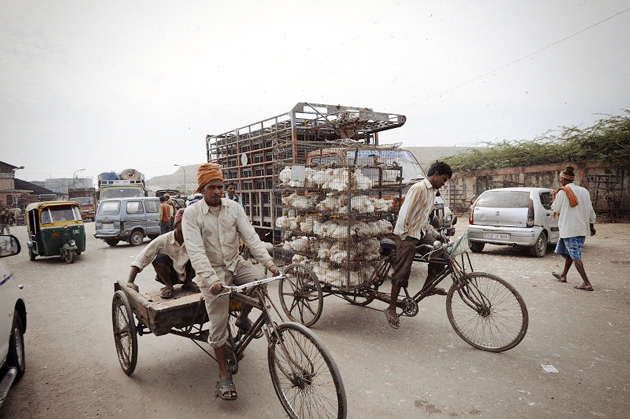 "In Europe it isn't quite so easy to take these kinds of photographs… We seem to act as if the animals we eat grew on trees and didn't have to be killed to be eaten. We distance ourselves from reality to sanitise our existence: cellophane and already cleaned chickens…"
In honour of the chickens, today we bring you a conspicuously meatless Indian treat from the canon of 19th century royal gastronomy.
Mysore Pack
The dish was prepared for the first time by Kaakasura Madappa, one of the chief Mahatmas of the royal court. The chefs of the kingdom were required to prepare sweets everyday for the court. One day, Madappa invented Mysore Pack by accidentally mixing besan (gram flour) with butter. It was loved by the royals, and subsequently by the common people.
The Maddappa family kept the secret of its preparation for years, until the grandchildren of Madappa opened a kiosk in Ashoka called Sweet Guru. Today, the fourth generation of the family runs the business and Mysore Pack has become part of Indian gastronomic patrimony.
Watch out – this is a recipe that can get quite sticky!
200 grammes besan (gram flour)
400 grammes sugar
200 grammes ghee
300 ml water
In a saucepan, heat the sugar in the water until when almost at boil, it attains a pastelike consistency. Slowly add the flour, mixing constantly making sure to avoid lumpiness. Once everything is well mixed, add the heated ghee and continue to mix.

Cook until the mixture becomes frothy and the ghee begins to separate. Pour evenly onto a plate coated in ghee. When it solidifies, cut into pieces and serve.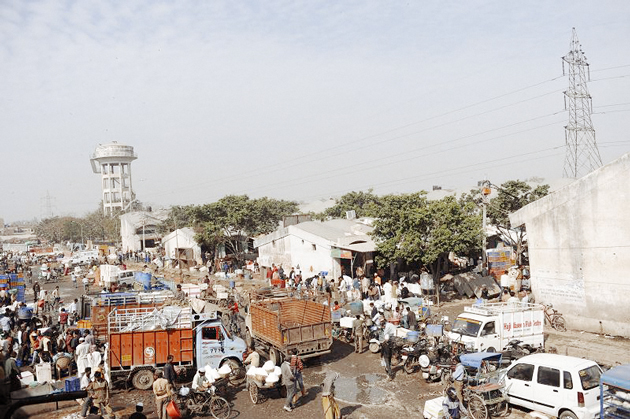 Visit Essen for more fantastic insight into the world of food.
Photos Vittore Buzzi – Text Tag Christof – Recipe Christina Zaga