.
Karin Kellner / Rolling Stone
We've been seeing a lot of 2DM's Karin Kellner on the presses lately. And in addition to her excellent magazine work, she even brought our Opus Creative collaboration with boutique brand Neroli Cashmere to life. The German-born illustrator, known for her evocative watercolours and ethereal environments, worked her magic this month across the pages of Rolling Stone Italia.
Her works for the issue include three for the Rock & Roll style section in an article called "The Thieves of Wall Street," as well as the key illustration for a hilarious piece by Gianni Vattimo entitled "The Liver's Mail." Finally, she made a lively portrait of economist Oscar Giannino which accopanies his informative editorial "Euro che va, neuro che viene."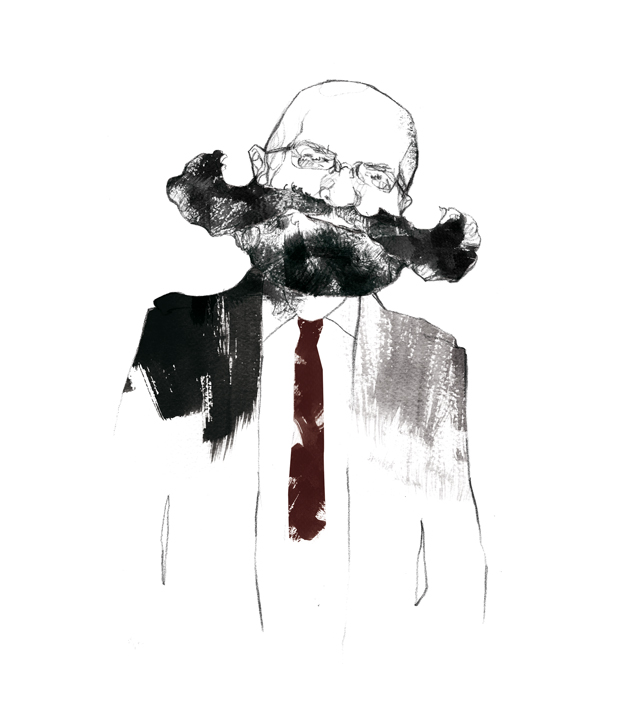 This month's issue of Rolling Stone, features a bird-flipping Dave Grohl on the cover and an interview with the Foo Fighters frontman entitled "Kurt Was My Friend." It's an excellent read. The issue also features interviews with Ben Harper, Ricky Gervais, articles on Johnny Depp and Thin Lizzy, a look at Fondation Cartier exhibition on voodoo objects billed "Vaudou Child," and an excellent mix of news, happenings and opinion. It even, unfortunately, features an article with photo of a barrel-chested Snooki.
Excellent work, Karin!
Tag Christof – Images courtesy 2DM & Rolling Stone