.
The Lowrider Coloring Book / Dokument Press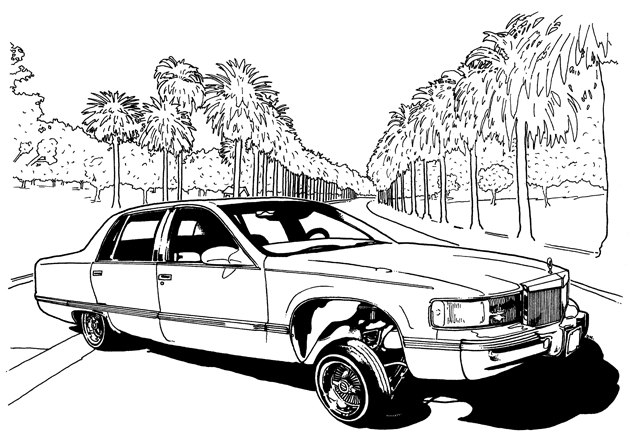 LA is in the air lately. Our love for that most quintessential of 20th century cities seems to be growing in reaction to a collective disenchantment with the characterless, hyper-global cities we increasingly live in. And as we stand on the precipice of an increasingly uncertain future, the neon boulevards, eternal youth and soaring dreams Los Angeles embodies look even better in retrospect.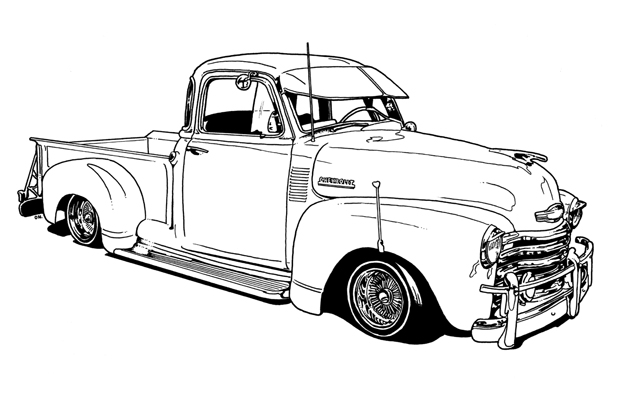 Even LA's lifeblood, the car itself, has become dangerously unsustainable, with traffic now snarling motorways in every major city of the world and atrocities like the Tata Nano mobilising masses who were arguably better off without a car in the first place. And as we look for a simpler time that will never return, LA's myth alongside the automobile as object of worship is only bound to grow. Especially the lowrider.
Interestingly, Dokument Press, an independent publishing house in Sweden (where cars have long cost exorbitant amounts to own and whose Volvo vanilla aesthetic isn't exactly permissive of excess), has released a fun colouring book dedicated entirely to lowriders. Not only does it honour the artform, its playful format is a nice nod to the creative freedom inherent in lowrider culture. The book is illustrated by Stockholm native Oscar Nilsson – who also happens to be a graffiti artist – and features cars from real LA car clubs like Royals, Viejitos, and Klique.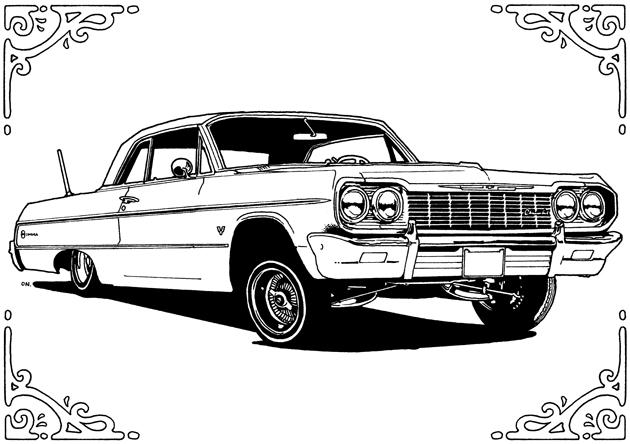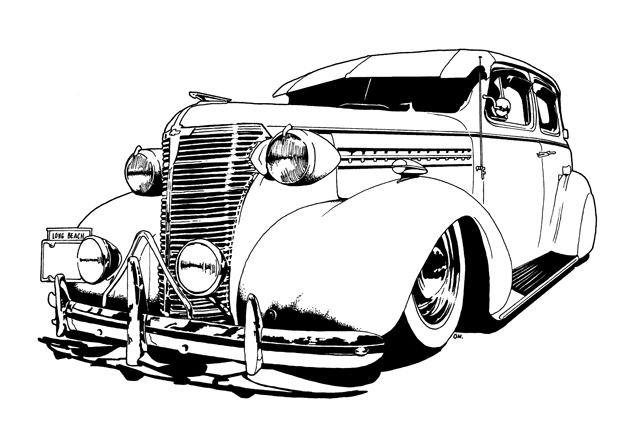 In northern New Mexico – where lowrider culture runs even purer and deeper than in LA – little boys still sketch lowriders in school notebooks, dreaming of the day they'll have the money to transform a junked out 1960s Impala or Oldsmobile into a shiny, rolling (and bouncing) work of art. To this day, aficionados obsess over their rides – their custom and insanely detailed paint jobs and velvet interiors – with the care and precision of a fine artist.
Few artforms – including grafitti – have maintained the cultural and ideological purity of the lowrider, so it's excellent to see its influence spread. And since the artform's very canvas is both finite (there isn't much traditional 1950s and 1960s Detroit metal left on the road) and changing (fifty years from now, nobody will dream of turning a Nissan Leaf into anything but compost), it is bound to remain encased in its native time and place: 20th century LA. No matter how far its its culture spreads.
p style="margin-left: 2px; color: #000000;">Bust out the airbrush paints and make these rides shine, locos! Get your copy from Dokument Press online shop.
Tag Christof