Global Fashion Show Trend Overview – Summer 13
Here at The Blogazine, we've been following the SS13 runway shows from the fashion capitals; New York to London to Milan and rounding off in joli Paris. Each city is unique and creates its own buzz and attitude. We've been analyzing closely the key trends and have selected some of our favorites.
CUT OUTS


Cut outs are popular this season with designers creating slick laser cut geometric shapes, from rounded geometric shapes at Rue du Mail to harlequin diamonds at Balmain or more nature inspired leafy cut outs at Sass & Bide on leather and crisp cottons. Layered or simply worn against the skin, it seems to be the next move on in a more bold form of the lace hype.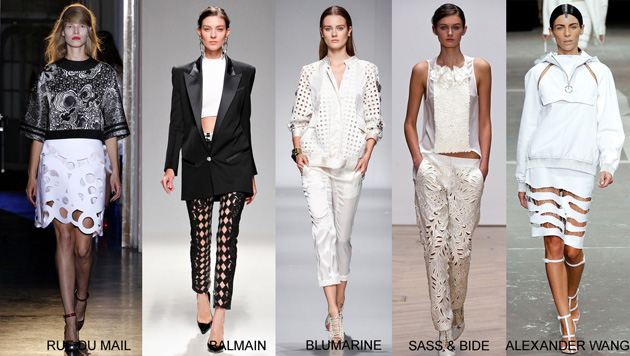 RUFFLES

Ruffles came cascading down the runways in many shapes and forms. From romantic flounces in chiffon at Chloe and Dries Van Noten to more structured and sculptured voluminous shapes at Balenciaga which created a more dramatic "Flamenco" style.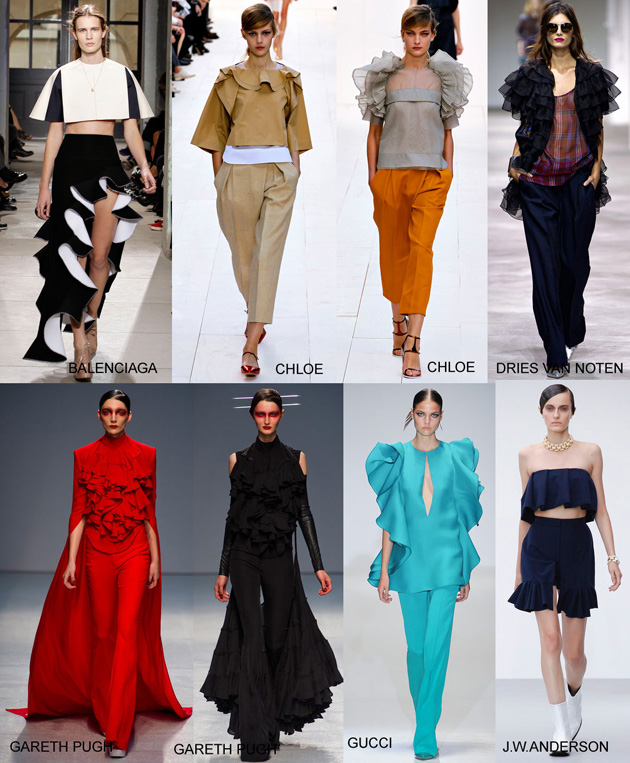 FUTURISTIC

There was a definite shift towards a futuristic space-like trend for some designers. Incorporating metallic and high-tech fabrics in Star Trek-like silhouettes, colour-blocking taking on a 90s clubwear look from London and Tokyo at the time from Junya Watanabe. You could also spot alien like make-up, all of which created a back to the future zoom.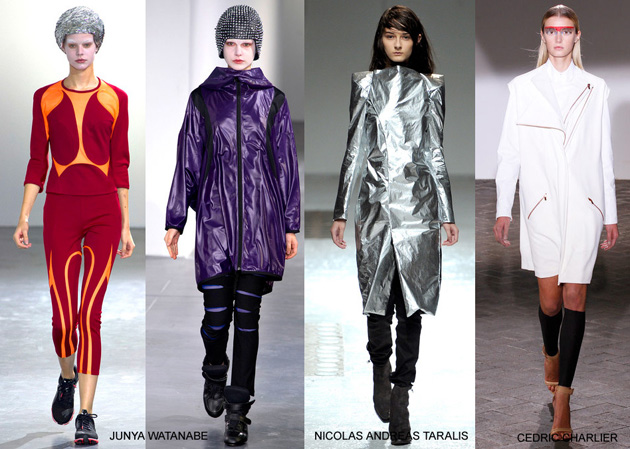 50 SHADES OF ORANGE
We mentioned orange being hot in our NY fashion week report. Across the globe orange has still been standing out as a key bright for next summer. From acidic orange to peach, pumpkin and rusty orange, all possible shades are creating a vibrant positive note to the season.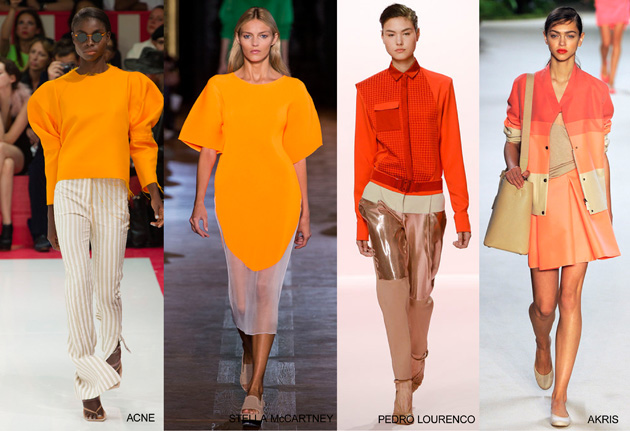 SWEATSHIRTS


The humble sweatshirt is still looking strong for next season. Designers interpret the item into sheer structured silhouettes at Stella McCartney to more Sloppy-Joe style at Ashish or embellished and decorated at Holly Fulton. This versatile item can be transformed into any look.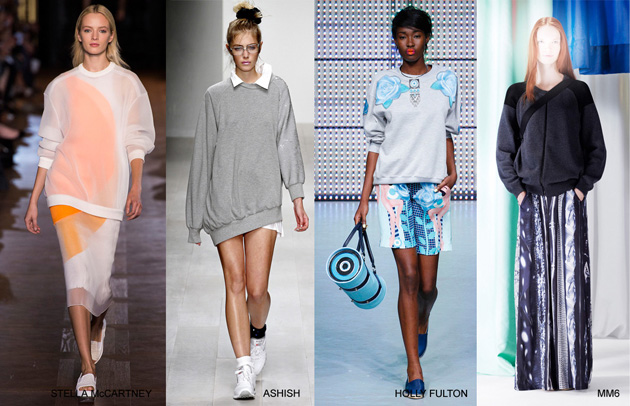 JAILBIRD STRIPES

Black and white jailbird stripes could not go un-noticed this season. It was a must-have amongst many hitlist designers. Translated into many forms from 60s mini dresses at Marc Jacobs, 80s paper-bag waisted trousers at Balmain, square boxy shape suits at Acne and Devastee to more feminine dresses and long flowing pleated skirts at Kors and Victor & Rolf.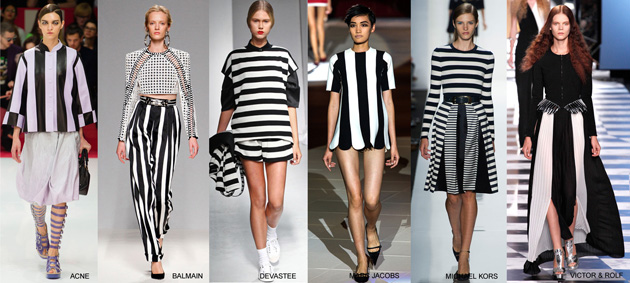 SPORTSWEAR


Sportswear continues to be a big influence to many designers. Designers have created molded volume shapes using functional details like zippers and draw-strings and combining sporty fabrics such as airtex mesh and light weight performance nylons. In some cases a more luxurious attitude was mixed in using sequins in sporty shapes combined with sweatpants giving a 90s feel to the silhouettes.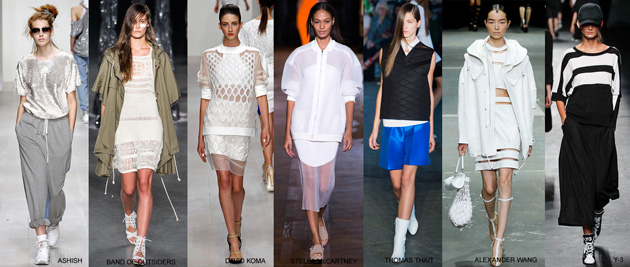 80s ICONS AT JEAN PAUL GAULTIER

And last but not least, we couldn't resist picking out Jean Paul Gaultier's show, with this theatrical tribute to some very recognizable 80s music icons. We'll leave you to guess who's who!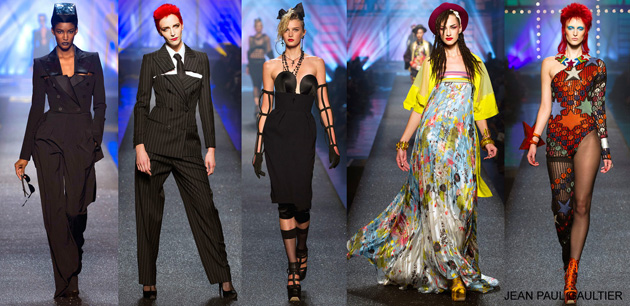 Tamsin Cook