Andrea Pompilio is the designer who won Who Is On Next on his first season after starting the eponymous brand and now he's the first designer chosen to show in Armani's catwalk theatre during Men's Fashion Week in Milan. The Blogazine have kept an eye on the designer for a while and yesterday we met the man of the hour for a quick catch-up between his two runway shows.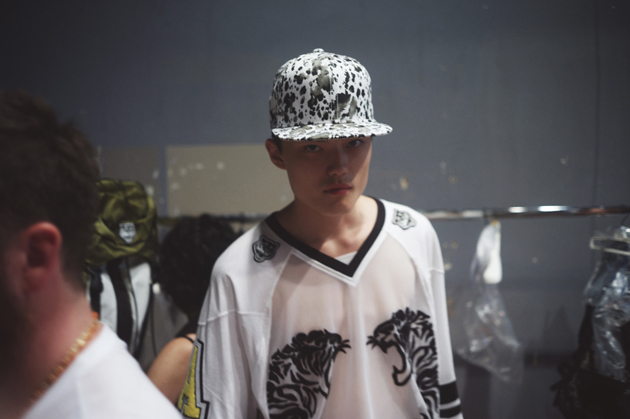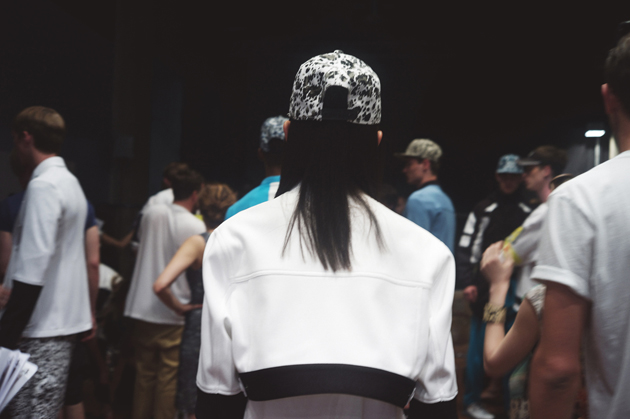 We meet again in Florence! How important has it been for you and your brand to show in Pitti?
It has been really important! Thanks to Pitti I have 'grown up' in an unbelieavable way and now after so many seasons, they are like my family! I decided to move up with my first line to Milan because I think it's the right time for that, but in the same time I love doing something with Pitti, with my family! So, I decided to use Florence as the location for the Onitsuka Tiger x Andrea Pompilio collection and move forward with the Andrea Pompilio line to Milan Fashion Week.
Tell us a bit about your work with Onitsuka Tiger! How did it start and what has this collaboration given to your brand?
Well, it's an interesting story because it all just happened. I was going to Japan and I was talking to my agent there about how I was feeling that I wanted to do some interesting sneakers for the last Spring/Summer collection, and they told me "Well, that's fantastic but why don't we go see Onitsuka Tiger to have a talk?" and I said "OK why not?" – and from there it goes! We created our partnership and started off with one sneaker model last summer and now here we are, one year later with an entire collection and a fashion show for both women and men. It's a partnership that has grown very fast and we have an interesting relation. Onitsuka Tiger is a sports company while I'm still trying to create something a bit more fashion than just a regular sportswear collection. What we're doing is really mixing the Italian with the Japanese culture and then mixing it with sportswear.
This season we were inspired by a lot of things related to Los Angeles. I went to L.A. and was really inspired by some of the areas and brought back a lot of information, and inspiration, from there. Beautiful emotions that in the collection take expression in prints – the collection is full of prints, something that also is a first for Onitsuka Tiger. The prints are on the sweatshirt, on the leather of the shoes, on the technical mesh – we are really using the prints, but in a very sporty way, and it's what really shows the Andrea Pompilio mixed with Onitsuka Tiger.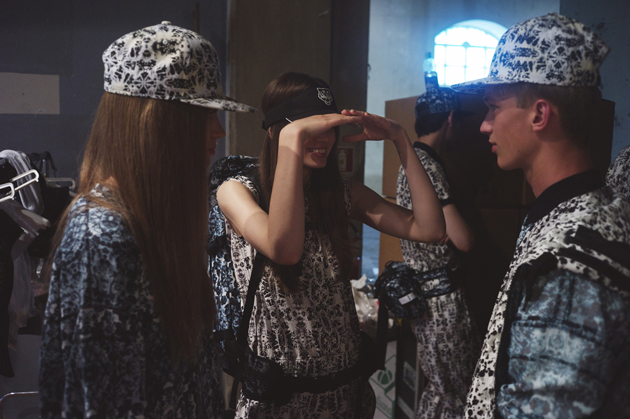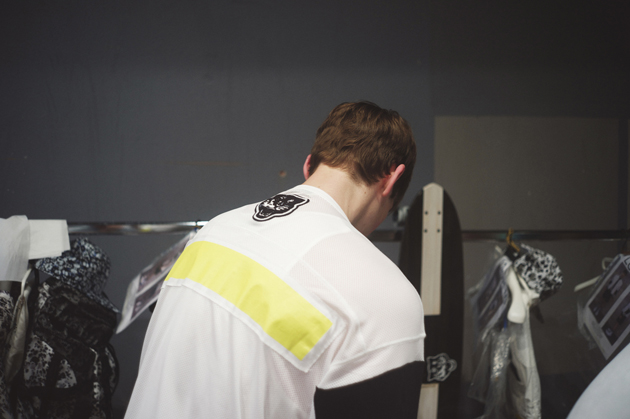 And now you are chosen as the first designer to show in the Armani theatre during Men's Fashion Week in Milan! What're your feelings about that?
I am very pleased that I have been given this opportunity! I am, well we are, my whole team and I, very very very excited and I hope that everything is going to be great and that you will like the collection too! I'm pleased and emotionally touched by this offer – I mean, Armani is one of the biggest designers in the world. When I was still in school my reference points would be Giorgio Armani, Gianni Versaci and Yves Saint Laurent, so being chosen by Armani to show in his theatre in Milan is an honour. I have to thank Mr Armani for choosing me.
Two shows within a couple of days: is your pulse rushing?
I think that in this moment we completely stopped stressing. When the adrenaline is so high you don't even feel the stress anymore, you just keep on running, running, running. I think the real stress is going to hit us at the end, when the adrenaline level goes down and the excitement is gone and I'm going to think "So what am I going to do tonight? Everything is done, I have nothing more to complete!" So at the moment we are feeling good: we are running like crazy of course, but we're good.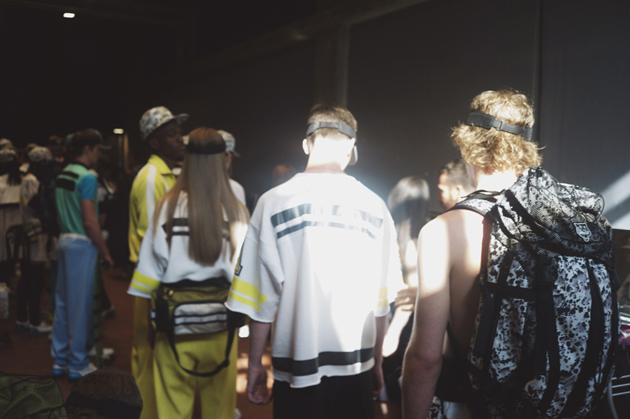 We've been following you since the beginning, but what is your personal feeling about your "trip" so far? Has your way of working, both design- and brandwise, developed or changed along the way?
The brand has grown a lot for sure. From being the winner of Who Is On Next to the first fashion show at Pitti to the collaboration with Onitsuka Tiger to jumping ahead to Milan. So the first thing is just that we grow a lot. Aesthetically I think the message has been very strong from the beginning, I don't think that I've changed "my man" – my man is always the same. What we actually do at the office is that we bring out each of the collections, from the beginning up until now, as an exercise to make sure that we are keeping our line, and in the end it's the exactly same man as I started with. For sure sometimes the collection might feel a bit more heavy, especially in the winter, because there will be a lot of accessories. It's cold and you want your hat, your scarf, your gloves and therefore the summer collections might feel a bit more minimal but it's only because there I don't need all those extra stuff.
Apart from that, my man stays the same. Even though we have expanded as a brand we have stayed very Andrea Pompilio. Sometimes there is another designer representing the name, but in our case it's all about Andrea Pompilio: who I meet, my friends, my inspiration, the people that I spend my time with, the museums I go to – it's a melting pot of things, but it's all very personal.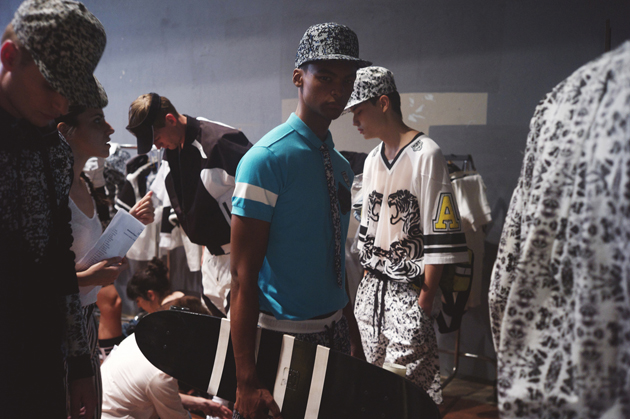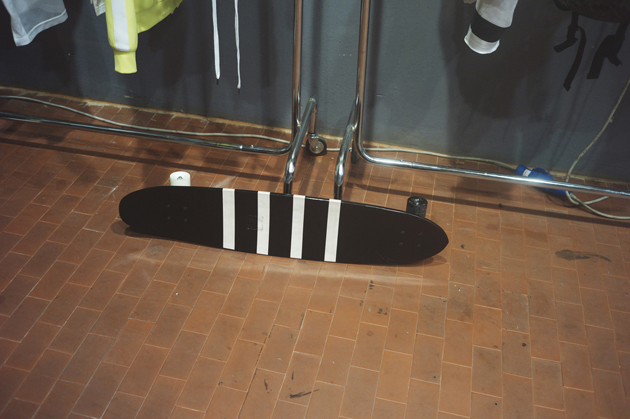 What does the future hold for Andrea Pompilio – what's the next step?
Oh darling, that is a very very very interesting question for all of us, because no one knows! Last season I had no idea I was going to be invited to show in Milan by Giorgio Armani! So for now I am very open to any surprise that may come our way.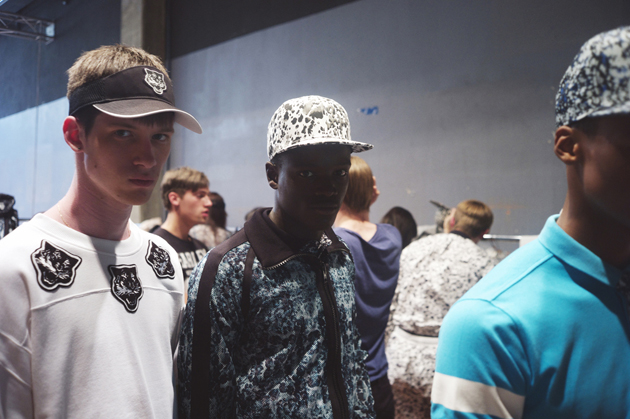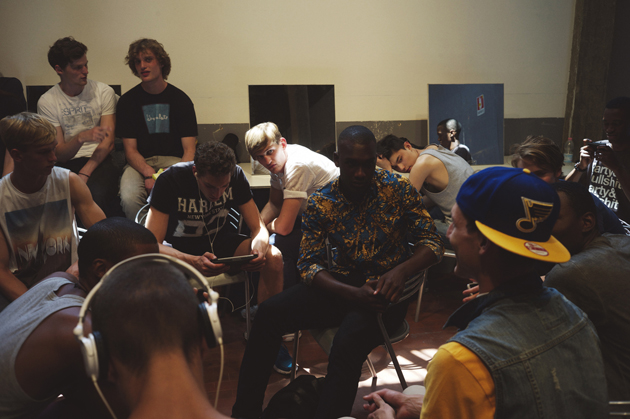 Lisa Olsson Hjerpe – Images Alessandro Furchino