Deconstructing The Thing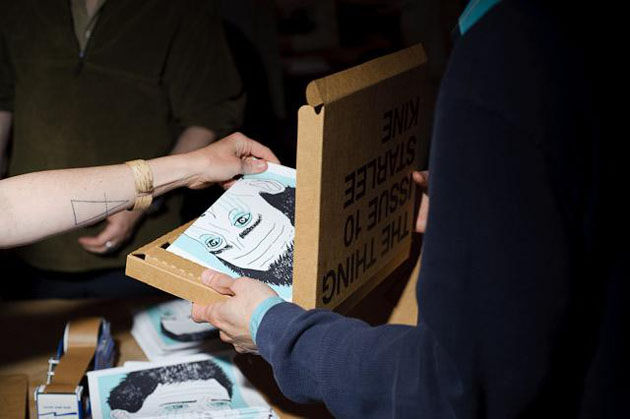 The Thing Quarterly is, in the words of the founders, a periodical in the form of an object. The object is typically functional and designed by celebrities and people otherwise notable in their line of work. Contributors in the past have included writer Jonathan Lethem, media artist Anne Walsh, and experimental geographer Trevor Paglen. They make things like military mugs, blank books with shoelaces sewn into them, and flags embedded with instructions on how to fold a flag.
It's called art, and it's brilliant.
It works like this: You pay them money ($65 an issue, or $200 a year), and at the dawn of each season you'll receive a Dominos-shaped cardboard box with the contributors name stamped boldly in Helvetica. It's clean and would look nice on top of a coffee table. It's also minimal, as much as an offshoot of the absurd humor of Marcel Duchamp as it is with the craft aesthetic of something like Ready-Made, a crafty monthly rag that tells its readers how to build their own living spaces without having to go to Ikea. But where Ready-Made tells you how to build things, The Thing has celebrities build things, and you pay money to have their objects sent to you. The thing is, you don't know what they're going to put in the box until it arrives. One publication described what they do as part MacGuffin, and part… something else. The MacGuffin is the only part I can remember now that I'm thinking it over.
But it's what's inside that counts, right?

It depends on who's putting what inside, and why. The most recent issue is an original Dave Eggers short story printed on a shower curtain. From the perspective of a shower curtain, too. If you're a die-hard shower curtain fan, you can't live without it. But James Franco's tribute to Brad Renfro is downright ridiculous, arriving complete with lipstick, mirror, and a photo book of Franco getting "Brad" carved into his shoulder. If you want a piece of glass that has the words (written by Franco himself) "Brad Forever" smeared on glass in front of a neatly-tucked pocket photo of Renfro, Issue 14 is for you. It's tacky, vain, and wildly pretentious even for a project where pretentious and indulgence are entry requirements.
But The Thing is heady like that. The people who produce it, visual artists Jonn Herschend and Will Rogan, promote the project as a surprise of sorts, something fun, like finding an object you weren't looking for in the leftover bin at the local thrift store. Maybe a wolf t-shirt, maybe a set of hand-made wine glasses with a message inscribed on the bottom, maybe a Brad Renfro knife or something. Brad forever.
Wait, that knife exists and costs $650? These guys are full of surprises!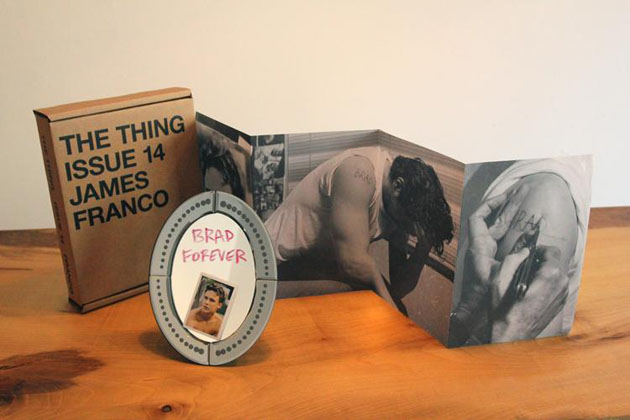 At least it seems like the contributors are having quite the time. Who wouldn't want to, like Starlee Kine did in Issue 10 (sold out), write a short story about an onion on a cutting board designed for cutting onions? Or silk-screen a post-it-note on a functional shade says, "If this shade is down I'm begging your forgiveness on bended knee with tears streaming down my face," like Miranda July did in the inaugural issue? This, too, is sold out, though I can't imagine those words having the same kick the second time the shade is drawn.
But like Duchamp's urinals, it's the idea of The Thing is more important than what's inside the box. And the objects sometimes are surprising, at least in the degree of incompetence they assume of their subscribers. But hey, it's not like you're forced to buy into this thing. I mean, if you're the type of person who thinks it's cool to spend $65 on a Dave Eggers shower curtain, I'm certainly not going to stop you.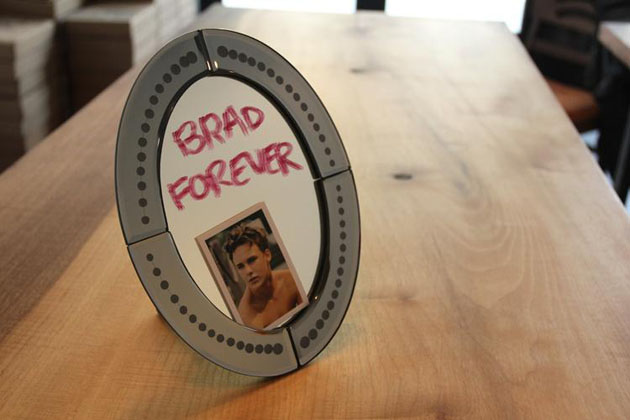 Lane Koivu – Images courtesy of The Thing & Lenny Gonzalez