The Editorial: Trash Handcraft Treasure / Mexico
Mexican drugstores don't sell rolls of film. Nice digital cameras, probably. But rolls of film, not so much. When you ask, shopkeepers seem always to give an expression that says "why on Earth would you still have any need for that?" It's a surefire sign that the country is still pretty far from the cultural hegemony of hipster that we wondered about in May's A Mexican Hipster & Her Acapulco Bike. Mexican culture marches on, as of yet diluted much less than most.
And like in India and China, two other nominally rich countries with exorbitant income disparities, handcraft in Mexico is alive and well. It's an integral part of the country's design patrimony – from musical instruments to pottery to hand-woven textiles. And there's an honest unpretentiousness to all Mexican craft that makes even its cheapest examples something entirely different from the over-adorned, silky sparkly stuff in street markets around the world. Gorgeous hand-painted glassware, embroidered garments, hand-carved sculptures.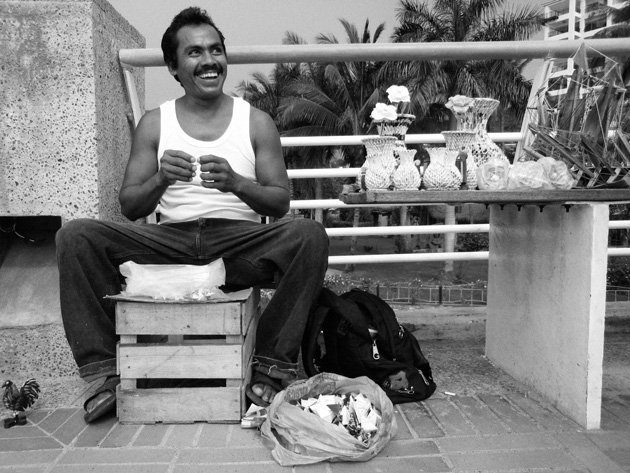 We came across a particularly upbeat artisan who makes elaborate decorative vases out of only scraps of meticulously cut-out paper from magazines. He spends his days creasing, placing, weaving at a table on a pedestrian sidewalk. Making pattern, form, shape and texture from former trash. And for his hours of hard work, he asks for almost nothing – one small piece that might take up to five hours is sold for no more than 3€.
He learned the technique from his father-in-law, but continues to develop it and play with new forms and ideas. Figurines. Perhaps water-tight paper weavings that could hold and keep flowers alive… Oh, possibility! His work has become more complex over time and he's developed his own "style" (quite different from others who work with similar principles and material). And his trajectory seems uncannily like that of a classic designer-artisan like Lino Sabbatini: learn a material, experiment, then make it your own. Even if he works in as "poor" a material as recycled paper, good craft is good craft. And in a small way that this maker almost certainly doesn't realise, his work is design.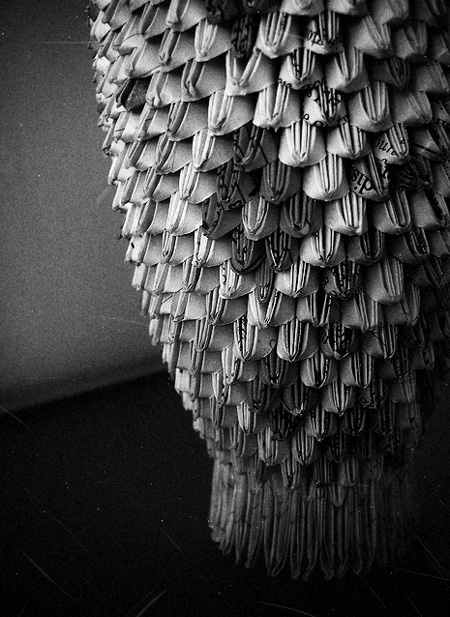 Still, his son – who sat attentively by his side as we chatted – said he wants nothing to do with his father's profession. He wants school. Knowledge. An improved life. His father wants it for him, too. And who can blame them? In a country relentlessly caught between rich and poor, upward mobility can be everything. Both of them have no doubt that there will be no paper folding in his future.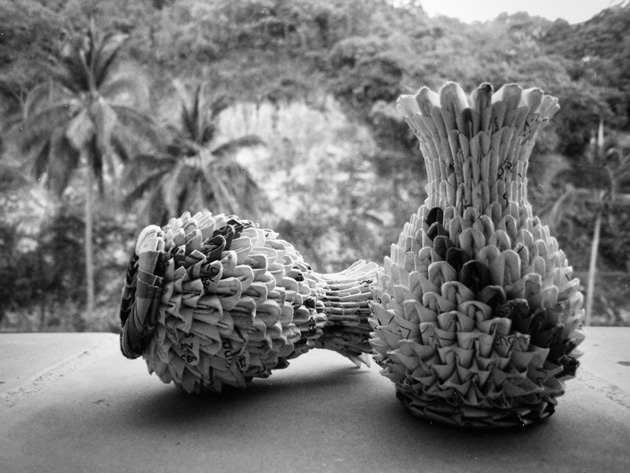 But we should hope that future generations don't allow the tradition of Mexican handmade to fade away. If Mexico follows the pattern of other rich countries as its economic health continues to improve (and hopefully begins to be spread around more evenly), these one-man makers are likely to mostly disappear. But the country's rich uniqueness is tied closely to these gorgeously lo-fi, refreshingly imperfect and unpretentious objects. They can be every bit as beautiful as a great number of good design pieces, but carry the extra validity of rich cultural context and skilled manual construction.
Their best hope for survival is probably a recognition by the rest of the world of their charm and distinctiveness, perhaps alongside a selling structure that would allow their makers a bit more to get by on. With a new generation of extraordinarily talented Mexican designers, artists and thinkers eager to steer a fresh course for their country's cultural patrimony and place in the world, the question of handcraft's should be a rather interesting one to tackle…
Tag Christof