39 designers presented their collections last week at the Central Saint Martins BA graduate show. The collections on display showcased the versatility and creativity to enclose the future of fashion. Silhouettes were voluminous, including full skirts with a 1950s vibe, oversized coats and jackets. Inspiration was gathered from the juxtaposition of eras such as the 1930s and 1960s as well as a post-apocalyptic society. The color palette showed all the colors of the rainbow (sometimes all together at once), with a slight edge for earthy tones and pops of red.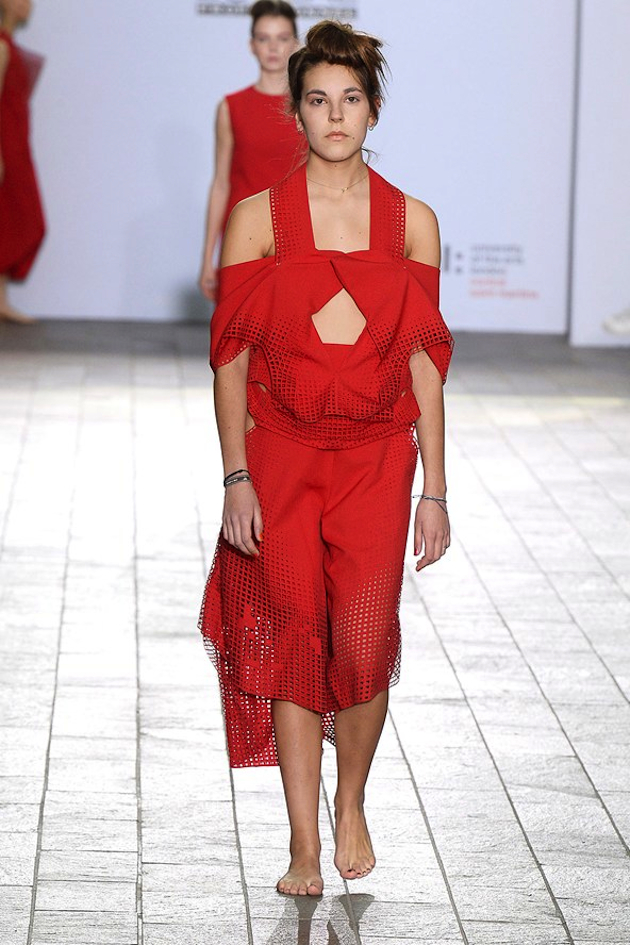 Womenswear designer Susan Yan Nan Fang made her collection stand out from the crowd by completing her futuristic looks with enormous mobile-like headbands. However, she was not alone in completing the ensemble with a headpiece to elevate the look. Designer Rebecca Jeffs adorned her models' heads in shredded fabric, adding a bit of whimsy to a minimalistic creation, requiring a second look from the attentive audience. Knitwear expert Gabriele Skucas infused a sense of playfulness alongside an impeccable technical ability, in a collection which turned childhood toys such as teddy bears and hobby horses into wearable art. Designer Louis Pileggi's bright check-board patterns and stripes in addition to flowy ribbon-like effect on hemlines and cuffs, brought to mind the fashionable nature of Harlequin jester, for an further addition of quirkiness that illustrated the fun-loving nature of fashion and a desire for self-expression.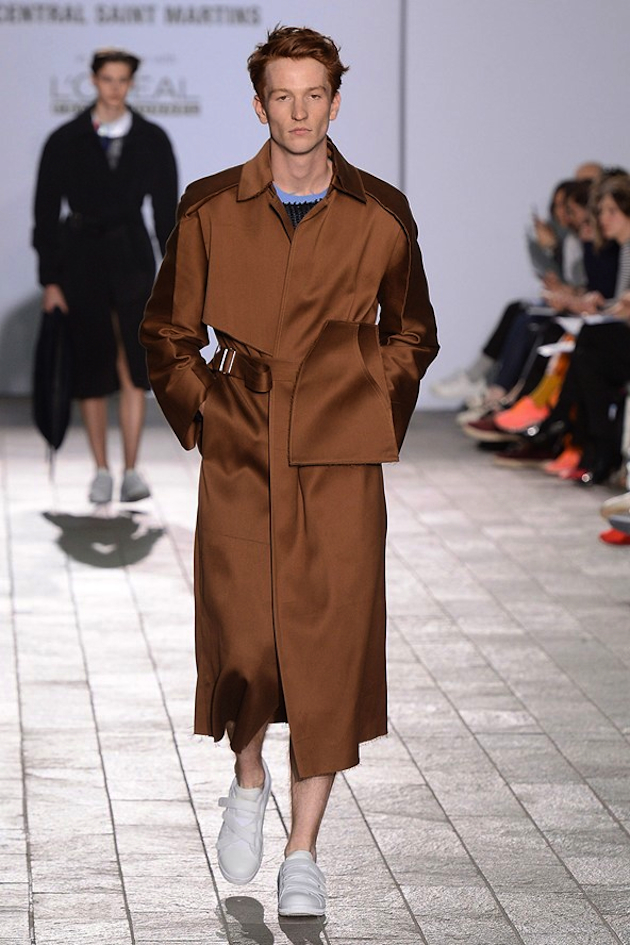 Womenswear designer Laura Newton took a more naturalistic route and incorporated wood into her looks. Sticks of wood had been constructed and worn as breast-plates or to emphasize various parts of a minimalistic aspect, showcasing the old saying "less is more". The desirable title "Designer of the Year" was however given to womenswear designer Jim Chen Hstang Hu, who presented a fiery collection all in red, giving the phrase "Lady in Red" a new tone. The collection comprised of clean cut garments showcasing complex craftsmanship with surprises such as structural 3D details and laser-cut textures.
Victoria Edman