As every other year, during London Fashion Week, the Central Saint Martins graduate show represents the future of fashion. This year, the whole impression of the show was promising, but there are certainly four designers that stood out a bit in the young CSM niche.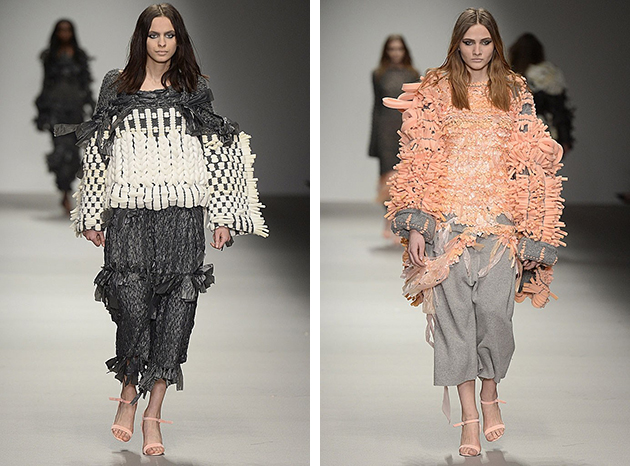 Hayley Grundmann showed exceptional technical knowledge when sending her graduation collection down the runway. By combining voluminous, knitted material with sleek and more anonymous fabrics, she created interesting silhouettes and shapes, that expresses the postmodern idea of combining different and unexpected influences into something new. Pieces like the grey sweatshirt with knitted details became a great reflection of this peculiar desire to be both included and stand out, all packaged within a beautiful collection.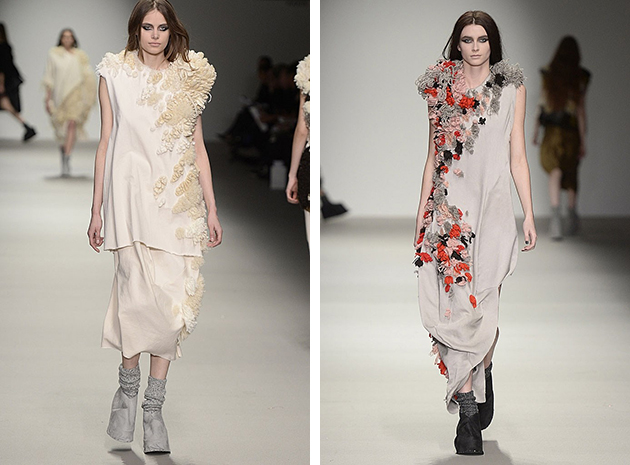 Paul Thomson seemed to be influenced by the same ideas as Grundmann, since the mix of materials played an important role in his collection, as well. Instead of focusing on playing with different shapes, Thomson has mainly used the knitted fabrics as details to create patterns, play with finishes and draw attention to clean cuts. The result is a collection that feels both luxurious – with the sober color scheme and in the choice of fabrics – and in the same time cozy, thanks to the knitted fabrics. This impression is strengthened by the styling which is topped with grey knitted socks.
Catriona Mcauley-Boyle's collection is colourful and experimental: it is obvious that she is not afraid of exploring or realising her design visions and that she does it without compromising. It is a refreshing collection that feels optimistic both in the amount of colour, combinations of patterns and the execution. We look forward to seeing what McAuley will be doing next.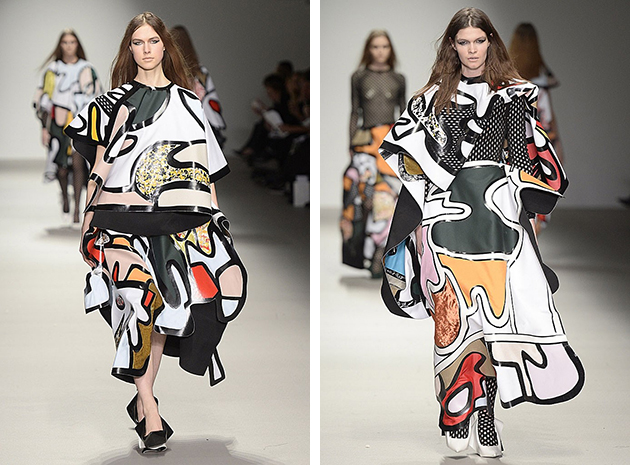 Beth Postle has drawn clear references to the art world in her graduation collection. The abstract patterns and the clean cuts are two elements repeated systematically throughout the collection. The art influences, nevertheless, do not feeling dated. Instead, Postle has taken them and transformed into contemporary mood, while, at the same time, adding her style to it. These are two aspects that we are interesting in seeing developed in her future designs.
Hanna Cronsjö