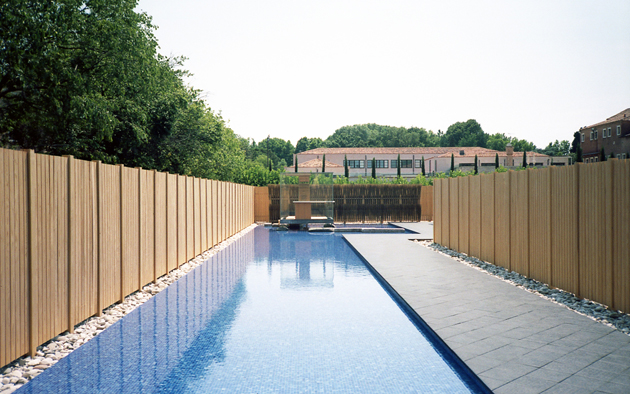 The Japanese artist and photographer Hiroshi Sugimoto made his first architectural work for Le Stanze del Vetro on San Giorgio Maggiore island in Venice that opened on June 6. Known throughout the world for his photographic works in black and white, Sugimoto for the first time in Venice designing a structure after opening his architectural firm just few years ago.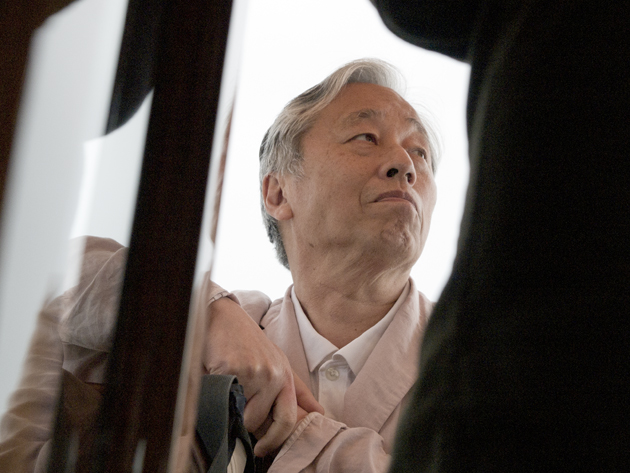 "Glass Tea House Mondrian" is inspired by the tradition of the Japanese tea ceremony, as it was reformed by the master Sen no Rikyu. The pavilion consists of two main components, one outdoor and one indoor. The uncovered structure (about 40 meters long and 12.5 meters wide) winds through a path that includes a long pool of water, which leads the visitor into a glass cube (2.5 x 2, 5 meters), where on a regular basis, there a Japanese tea ceremony will be held. The glass cube welcomes, together with the master of ceremony, two visitors at a time, while the public may attend and take part in the ceremony gathering at the sides of the glass cube. The tools that will be used for the tea ceremony were all designed by Hiroshi Sugimoto and produced by artisans in Murano.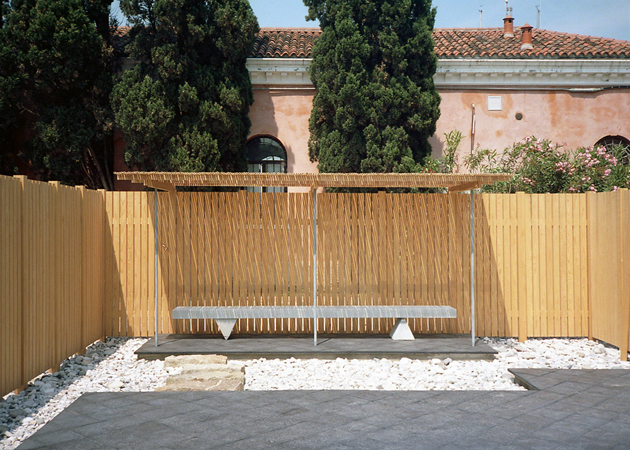 The flexible structure of the pavilion and its temporary nature, will also transform the garden where it was built, so far unused, in a versatile space, able to accommodate meetings and debates, and encourage visitors to freely determine their own experience with the pavilion. The innovation of "Glass Tea House Mondrian" lies in its ability to suggest a space for exhibiting and experiencing architecture, where the pavilion itself becomes exposure – innovation to which is added the autonomy of the artist to propose a theme and a project free from restrictions, but rather open to the possibility of experimenting with shapes, place, building technologies and materials.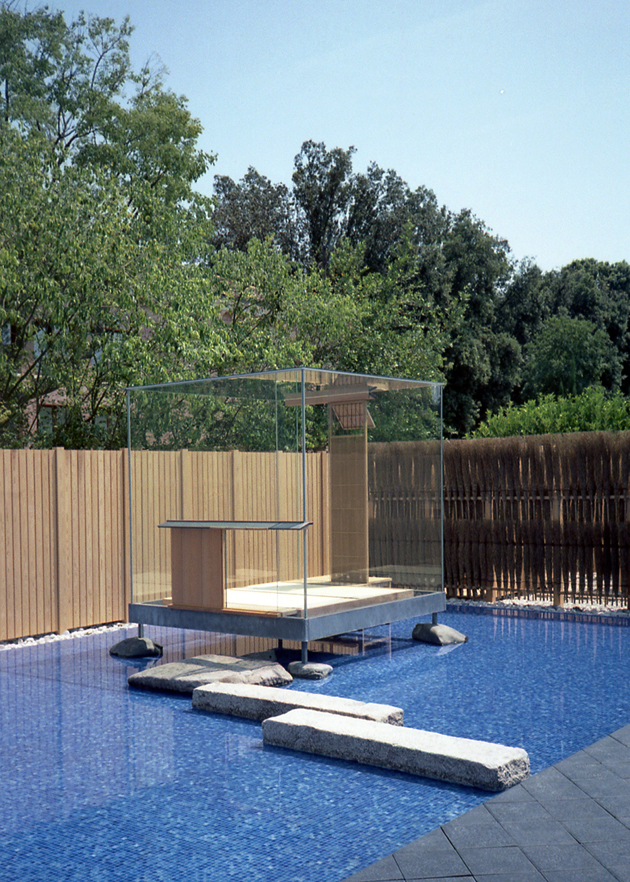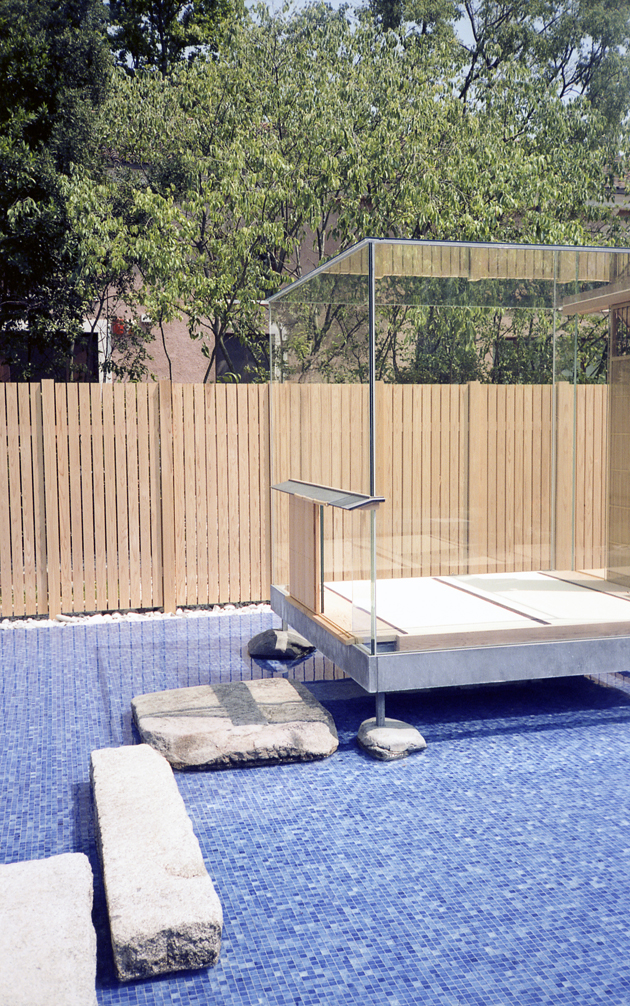 The external structure is built entirely of cedar wood from Japan, and realized by Sumitomo Forestry Co. Ltd. Chosen by Hiroshi Sugimoto for their efforts in contributing to the reconstruction of the areas devastated by the Tōhoku earthquake and tsunami of 2011 and instrumental in the construction of "Glass Tea House Mondrian" and the external enclosure, which is inspired by the Shrine of Ise. In the frame of the Island of San Giorgio Maggiore, the "Glass Tea House Mondrian" also acquires a symbolic value by encouraging the visitor to interact freely with the place, and also requiring you to find the right balance between personal and artifice architectural and the natural environment that surrounds it.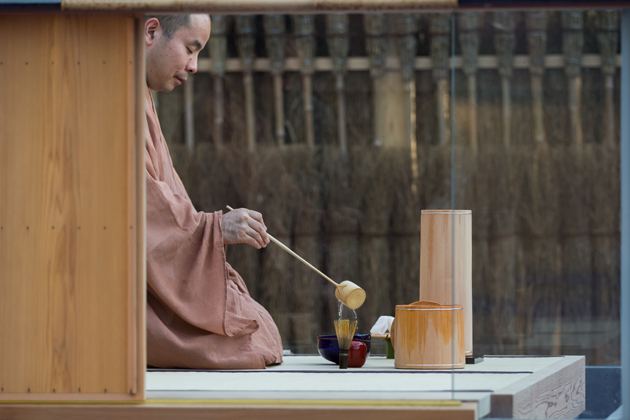 "Glass Tea House Mondrian" builds a strong dialogue between interior and exterior, nature and artifice, closed and open, light and heavy, water and land, a relationship that results in the use of timber from Japan – for the external path – , mosaic – for the hot water – and glass – for the deputy to the experience of Japanese tradition.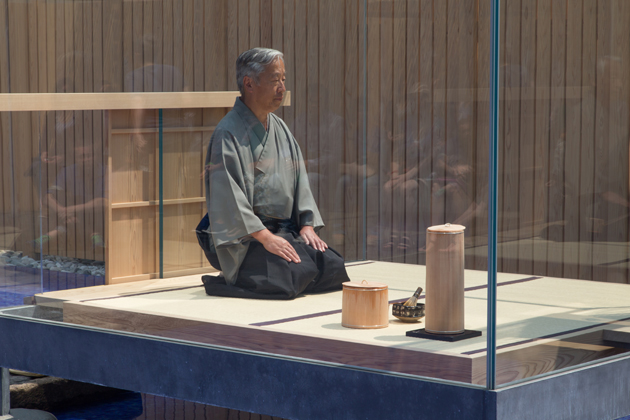 Images and words Giulio Ghirardi