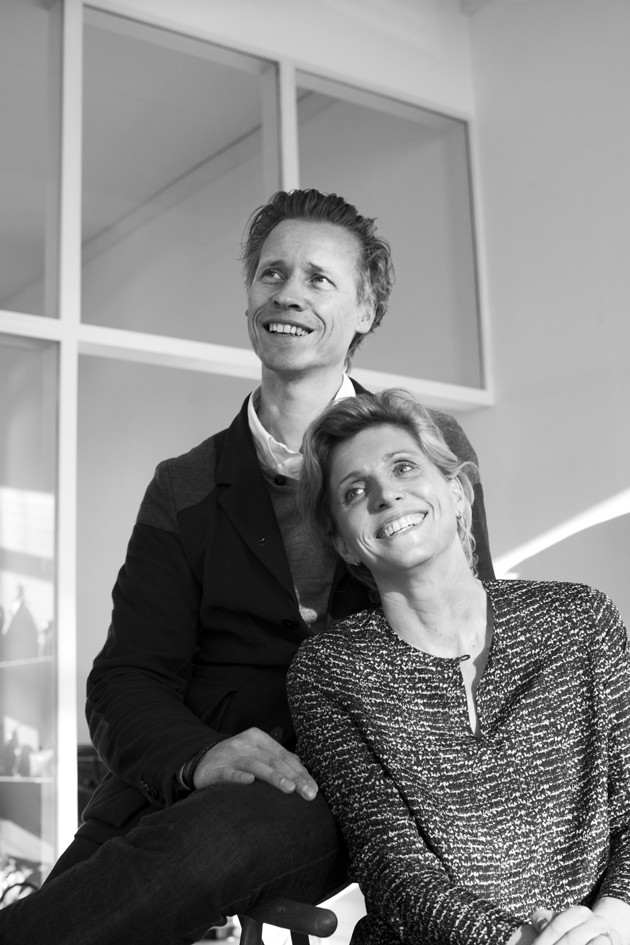 Mismo is the the silent player from the North, initially founded to oppose the flat selection of men's luxury luggage. Starting from a small aspiration for something more, Adam Bach and Rikke Overgaard, brought their goods together and in 2006 launched their first collection of bags. Going from 2006 to 2014, even though still a 'silent characther', Mismo hasn't passed by unnoticed. Carefully curated and thoughtfully designed, the brand brings an understated elegance to the menswear scene. Despite fabrics and materials coming from Italy as well as from Turkey, it is in Denmark that it all comes together. The Blogazine went to Copenhagen to meet with the couple who stands behind one of the most blooming brands of the season.
Hi Adam & Rikke! What are you up to in the studio today?
Framing the ideas that in a few months time will materialize into the SS15 collection. This time of year is the absolute best and most vibrant of the Mismo cycle. The SS14 deliveries have all been made, AW14 order book is closed and production orders have been passed on to suppliers and manufacturers. Now we can fully concentrate on the more creative part of our business – the part we both enjoy the most – product development. In the studio today we are having a general discussion on fabrics and colors all across the collection. That's always the starting point before we dig in and become more product specific. Piecing together the collection in terms of styles, materials, and image is truly a strategic choice that requires much our energies to get it right.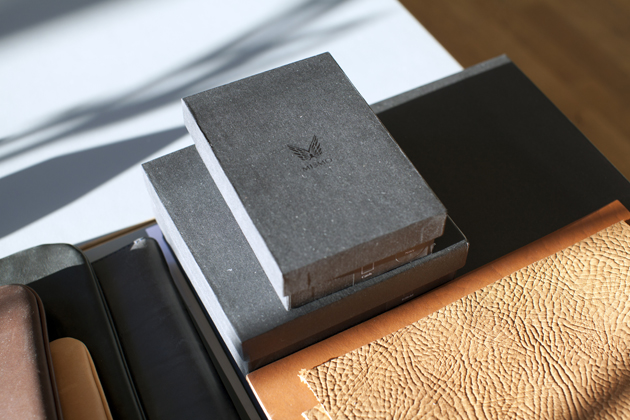 The name Mismo doesn't seem to have sidestepped anyone on the contemporary menswear scene. Is it frightening or fantastic to be, after years of hard work, where you are now?
A bit of both to be honest, but mostly fantastic! We've worked hard to be where we are today, having built an internationally recognized brand, a solid worldwide distribution and a trusted supply chain. That is fantastic and we're very proud of this. But we constantly work on strengthening the brand and we still have gaps that must be closed and ambitions that we haven't yet fulfilled. We've experienced growth over the last five years, but we are well aware that things can change in an instance. So, we take it all in stride and enjoy it as much as possible, while always being grateful to experience another season with good sales and more engaged and supportive customers.
Where does the name Mismo come from?
Mismo is a Spanish word that means "the same" or something that refers to yourself. We liked the simplicity of the word and the personal reference in the word.  Since we've always been working with these natural materials, being vegetable tanned full-grain leather or cotton canvas, that develops over time and becomes more personalized the more you use them, we felt the name was a good fit.
Even though Copenhagen is your point of departure, you work continentally from material to production. From where do you draw inspiration in the design process? What would you say your point of reference is?
Tactility is always a great source of inspiration for us, which is why the choice of materials is the biggest point of reference and strategic choice for each collection. We draw inspiration from the environment that surrounds us, which offers a vast selection of colors, tones, materials, and natural elements. Tactility in furniture design is also a big inspiration; smoked oak, stained wood, crafted brass seen in the great designs of lamps and furniture design. The expanding scene of great crafted furniture that arises from the Danish design scene with Poul Kjærholm, Arne Jacobsen and Finn Juhl, but with a new Nordic generated design focus is a great key for inspiration for us, because of the high focus on tactility and craftsmanship.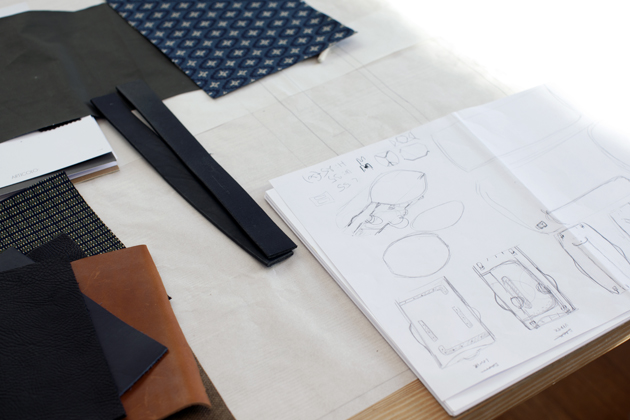 Your products are defined by a subtle elegance, a 'cleanliness' that is underlined by strong design. Do you find it hard to edit your own work, to 'strip it down' to its very essentials?
When it comes to the question of what is functionally really necessary and what is not – the choice is simple.  It all comes down to making very accurate choices in terms of which textiles to use and to respect the nature of each individual fabric and/or leather you are working with. We sometimes obviously have an idea about a specific bag and its functionality and we search a fabric that meets the demands for that specific style, but many times it's the discovery of a new fabric and its capabilities that brings to life new designs for which the newfound fabric would be perfect. When you have the privilege of working with the finest possible materials from fabrics to leather and you have a production that you trust is capable of meeting your standards in terms of quality and finish, then your job is almost half done as a designer.
What is your idea of ideal Scandinavian design?
Scandinavian design is where luxury arises from the choices made (in production and in design) more than a visible statement. Understated design with a high focus on functionality. Honest and respectful handling of the materials used, a production emphasizing as much craftsmanship as possible – craftsmanship in its truest form, as in real hands doing a real craft! not some fancy word that everyone wants to use – timeless in design and ultimate quality in product and materials.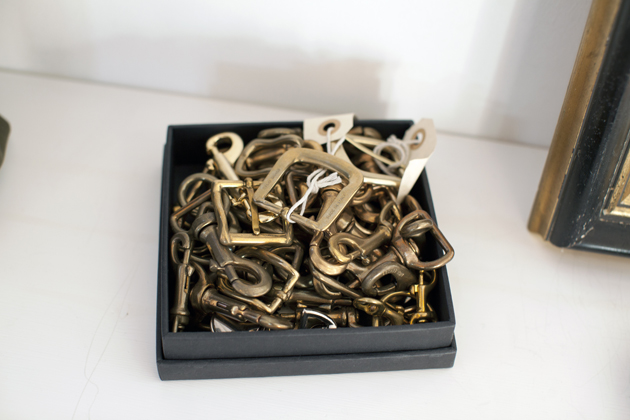 You recently launched your online store but you're still keeping it low on social platforms. Is it a conscious choice to stay out of the social media frenzy?
Not really, it's more a matter of getting the grip and feel of it before throwing ourselves in that game. We need to keep focus on the products we develop rather than on what surrounds it. I guess we're a bit old fashioned and cautious when it comes to social media. It's probably also a reflection of the persons we are in private, where social media plays a very little part of our life.
What's the big difference between your SS14 collection and the one you are presenting for AW14-15?
Spring/Summer 14 is very natural, relaxed and playful which is reflected in the fabrics used such as linen, multiple nylon articles, PVC print and colors that reflects the many shades of the sea. We've mainly used green and blue tones for SS14.
The AW14 collection is darker and more masculine compared to many of the previous seasons. Autumn always is a little harder and darker than Spring, but this season we'll be introducing a new leather collection "The Wrinkle Collection" in a vegetable tanned shrunk cow leather that revolves around organic shapes accentuating the raw look and the natural draping of the very soft and richly textured full-grain wrinkle leather that we have developed.
We also introduce a couple of new seasonal styles inspired by the rough "Skagerak" sea and the sheer masculinity of surviving when surrendered by the pure forces of nature. In this collection, the fabric immediately set the mood for the designs; It is extremely light weight, water resistant, surprisingly sturdy and it has a masculine, raw, industrial appeal.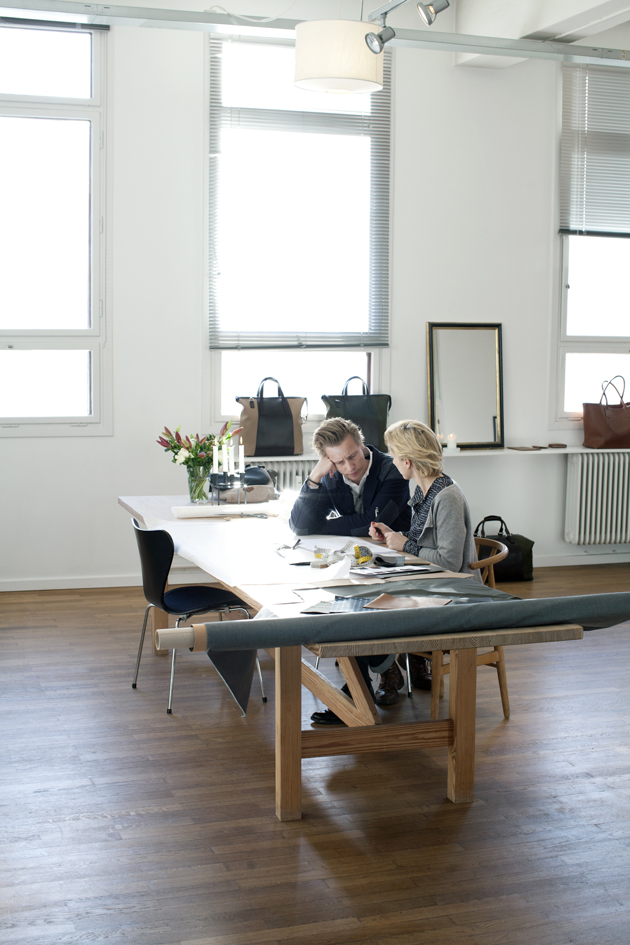 What do the future hold for Mismo? Any scoops to share with us?
We've always been rather frenetic about our distribution, but this season we've opened up a bit on strategic markets such as Japan where we have teamed up with a distributor, which will see the brand gain more awareness in Japan starting from next season (AW14). We look forward to that! AW14 will also be the season that sees the launch of our collaboration with a well-known American brand; can't say more, sorry. We're really excited about that and we've also got new and exciting print projects coming up with Danish type foundry Playtype.
Even though constantly growing as a "fashion city", Copenhagen is still a bit "off shore" for buyers and press. How important are international fairs and events for you?
Copenhagen is home, and we'll always be showing in our showroom here. But showing the collection abroad is vital for us and both Pitti in Florence and Capsule in Paris are key destinations on our seasonal tour. Pitti kicks off the season and is always great for meeting press and leaving first impressions with the buyers. We've had a great run with the Capsule fair, been doing it almost since its inception and we work closely with the team behind on our US distribution. But next season we'll move a little out of the comfort zone, quit the fair and instead do our own private showroom in Paris. It's been something we've wanted to do for a couple of seasons now, to get our own space where we'll be able to present the collection in its right setting. Warm summer days, cold drinks and hopefully lots of customers in our own Parisian gallery is something we look much forward to in the near future!
Lisa Olsson Hjerpe – Images courtesy of

Louise Damgaard