Hello guys, how are you?
Fine, thank you.
Who do I have the pleasure of speaking with today?
You are speaking with Andrea. I play the guitar, sing and dance in the band Green Like July.
Where are you from?
We come from different parts of Italy, but we all are curretnly living in Milan. I was born and grew up in Alessandria, Paolo is from Voghera, while Marco and Roberto are from Lama dei Peligni, in Abruzzo.
You were born as a band in November 2003, but your name is Green Like July, why?
The reason is purely phonetic. It could have been the E Street Band, Hawkwind or Judas Priest, but those names had already been taken.
Three hashtags to describe Green Like July.
# Rock #and #roll
On September 17th, your latest album, Build a Fire, has been released. Do you like it? I mean, was your goal creating an album like this or you imagined it in a different way?
We are very happy with the way that it sounds and we are proud of the work that we have done. We were certainly conscious of the potential of our songs. Build a Fire was conceived after three long years, in which we managed to define the structure of each song and we worked very hard to give the right sound to the album. Then, the contribution of A.J. Mogis and Enrico Gabrielli has been essential. We imagined an album like this, but then things went better than what we expected.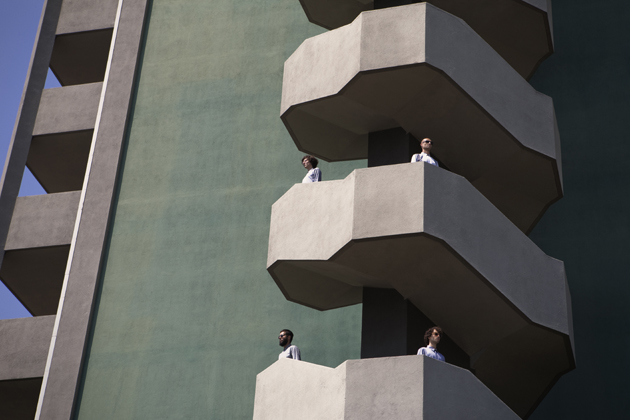 Build a Fire arrives two years after Four – Legged Fortune. Why so long? What did it happen in the meanwhile?
I am a very picky musician and I need the time to write. Sometimes the creative process evolves immediately and in an spontaneous way, but other times it means days of effort and hard work.
The album has been recorded at the Arc Studios in Omaha, Nebraska. Something unusual for an Italian band. Why did you decide to do it there?
At that time, we were working with A.J. Mogis in the recording of Four – Legged Fortune. In that moment we realized the potential of ARC Studios. The choice to return in Omaha has been essentially driven by the fact of working again with AJ. He is a person with a great sensitivity, wisdom and patience. He is not only a musician with a boundless talent, but a great sound engineer.
Do you think you have been influenced by Omaha in the recording of this album?
The place where you record an album, influences significantly the creative process. Now, I can not tell you exactly how much of Omaha and Nebraska is in Build a Fire. Writing an album takes months or even years, but the recording process usually takes a shorter period of time. If i think about the places linked to Build a Fire, Park Slope, Viale Argonne surrounded by the fog or Torino-Piacenza highway come straight through my mind.
Did you read a lot during that period?
When we were recording Build a Fire, the books that were on my bedside table were The conspiracy of doves, by Vincenzo Latronico and The New York Trilogy, by Paul Auster.
How did you meet Mike Mogis, from Bright Eyes?
We have been living together in his house!
Olimpia Zagnoli is the responsible of translating the Green Like July into images. How did you have the idea for the video and the artworks?
I tried to transmit Olimpia the ideas, images and colours of Build a Fire. Olimpia has patiently developed and tidied them all, giving it a shape to my somehow confusing suggestions.
One last question. Why are you always so serious in the pictures?
As Tom Waits said, "sane, sane, they're all insane, the fireman's blind, the conductor's lame, in Cincinatti jacket and a sack luck dame, hanging out the window with a bottle full of rain".
Enrico Chinellato. Image courtesy of Claudia Zalla