Short but rhythmic, visually compelling, emotionally engaging: the recipe for a good runway is all about returning a memorable, breath-taking show. Thus, fashion catwalks have always been entrusted to visionary event managers – Etienne Russo, Alexandre de Betak, Thierry Mugler, just to mention few of the most revered fashion producers – committed to combine an out-of-the-box creativity with a flawless direction of a complex ensemble choreography.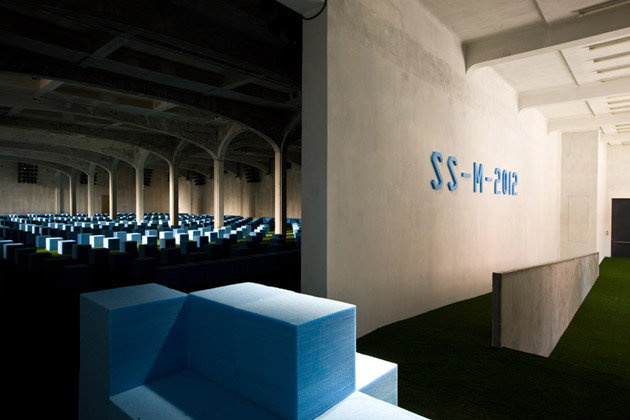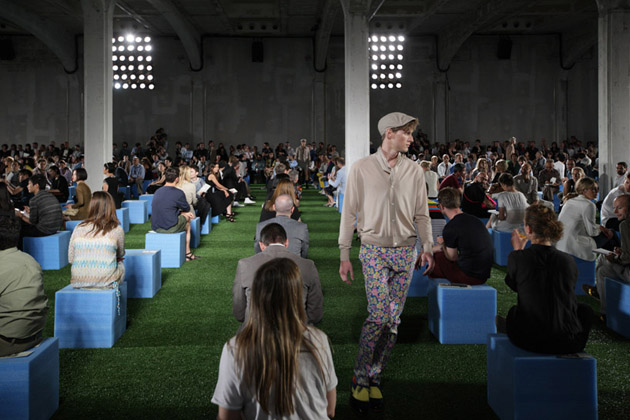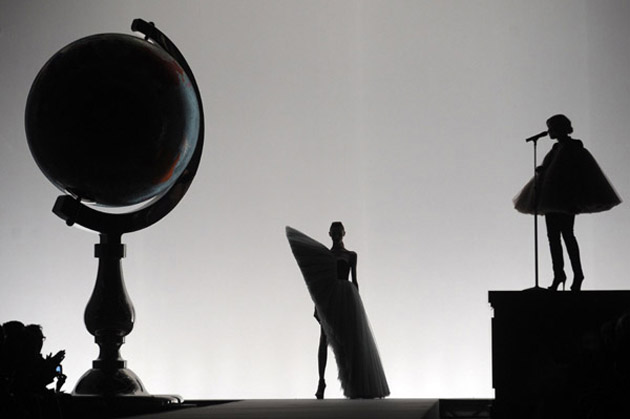 However, a subtle but significant shift has recently revisited these implicit laws. That's what has silently been changing: on tiptoe, industrial designers have been called to rethink the scenic space as a new architecture of objects and volumes. Today, their role in the overall fashion biz is that of back actors. Tomorrow, they could be transformed into main characters engaged to redefine the way we represent meanings and metaphors in the fashion world.
The first to burst on the runways scene was Studio Job, called to support the iconoclast genius of Viktor & Rolf for the launch of their 2009 "Cutting Edge Couture" collection. Thanks to a creative affinity that ties the two couples as a result of their long-lasting friendship, Nynke Tynagel and Job Smeets were set free to design a huge Swarovski crystal-covered globe, a mean to establish a new sense of proportions between clothes and items on stage and thus subverting the giant allure that models usually personify in this context.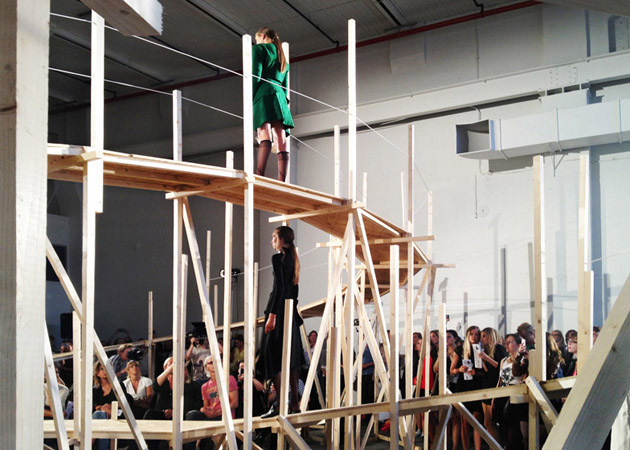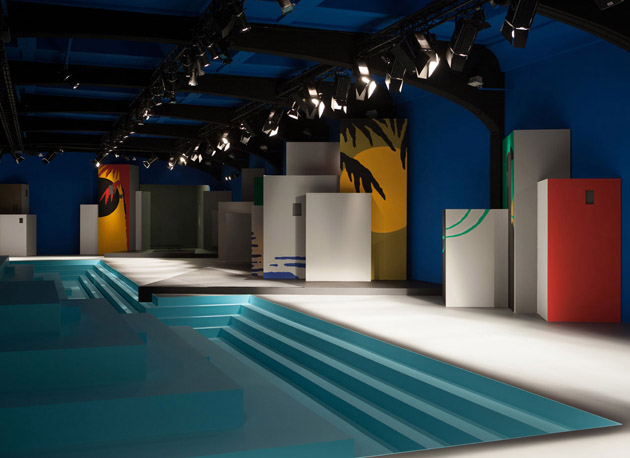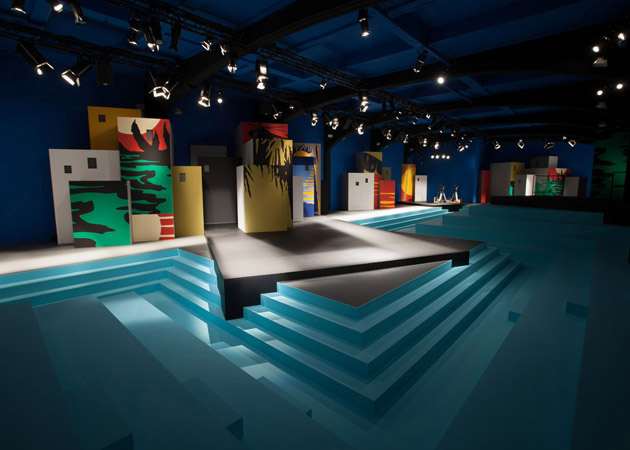 Their collaboration hasn't slowed down in the following years: in 2011, "Rebellious Sophistication" associated the issue of youth intolerance to a black and white backdrop showing withered flowers. Then, their latest exploit was Viktor & Rolf SS14 collection: openly inspired by Pink Floyd's "The Wall", Studio Job recalled the issue of rebellion transforming it into a tiled, iconic scenario whose insurrectionary message is meant to be aggressive up to an metaphorical point break.
However, the conceptual affinity between fashion and design is not necessarily a matter of compatriots. In the last couple of years, Miuccia Prada committed to her trusted cultural think tank, Rem Koolhaas' OMA/AMO, to set up an intriguing runway concept for her collection. First, an inedited exhibition offered a premise for this new collaboration: "Ex Limbo", commissioned in 2011 by Prada/Koolhaas to the Belgian collective Rotor, redefined the space and the paths of Fondazione Prada in Milan through the use of dismissed catwalk platforms. Later on, in 2012, OMA got rid of the idea of catwalk reconfiguring it into an unstable, enlarged volume. Up to an apotheosis: the inclusion in Prada's AW13 runway of the new OMA's prototypes designed for Knoll and named "La Casa Ideale": a true short circuit between fashion and design, calling into question priorities and mutual expectations from these two worlds.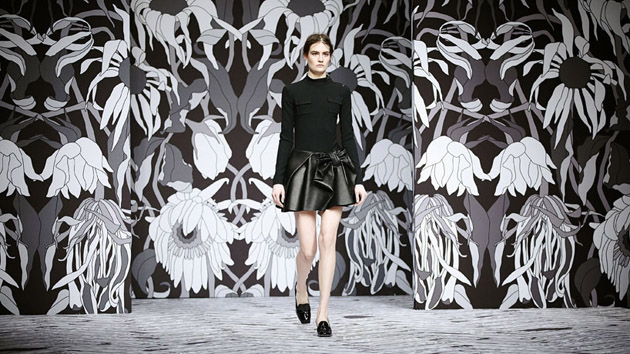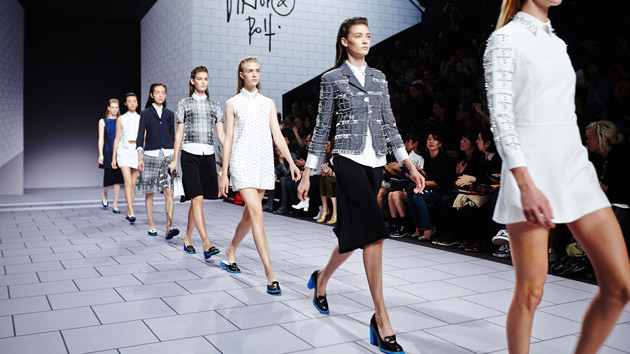 The collaborations between designers and the fashion world are not limited to long lasting, conspirational friendships. Recently, the Japaneese cult fashion designer Issey Miyake chose an unexpected partner, Sir James Dyson, to set up a wind machine to inflate the catwalk of his "The Wind" collection. More underground, but highly spectacular, the suspended, looping catwalk designed by Gartnerfuglen-Arkitekter transformed a no-profit event celebrating emerging Norwegian fashion talents into a worldwide viral phenomenon.
Could design for fashion soon unveil its full potential? For sure, let's expect it to gain a bigger role in transforming fashion events into an unforgettable – and brandable – opportunity.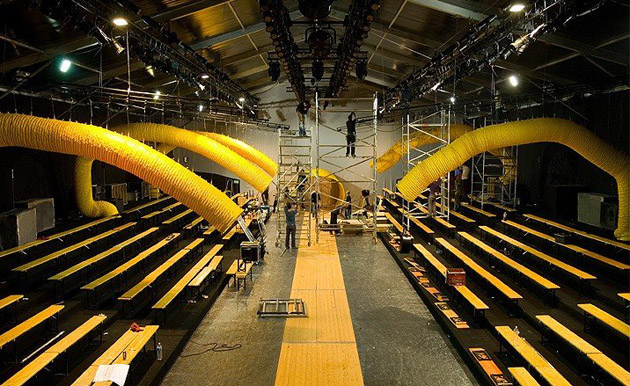 Giulia Zappa