In history-soaked, character-filled and eternally elegant London there is one rule. When the sun shines, you dine beneath it. So, to help take advantage of the English summer we've found five sun-bathed, gastronomic wonders that are sure to delight and deepen the tan.
Inn the Park
Found in St James's Park, the oldest Royal Park in London, this elegant, calm and cozy haven offers up the most delectable peach and vanilla Bellini this side of Venice. Eco-friendly and architecturally fascinating (it seems to blend into its verdant surroundings), Inn the Park is part of the Peyton and Byrne restaurant group and is known for its innovative, seasonal dishes. Dedicated to showing off the finest British ingredients, meals are vibrant, artistically arranged and focus on individual flavours and textures. Just be sure to save room for dessert – the Eton mess will make you a fruity meringue convert.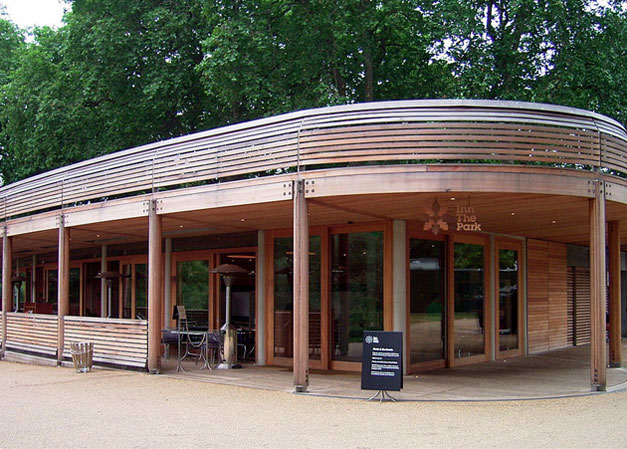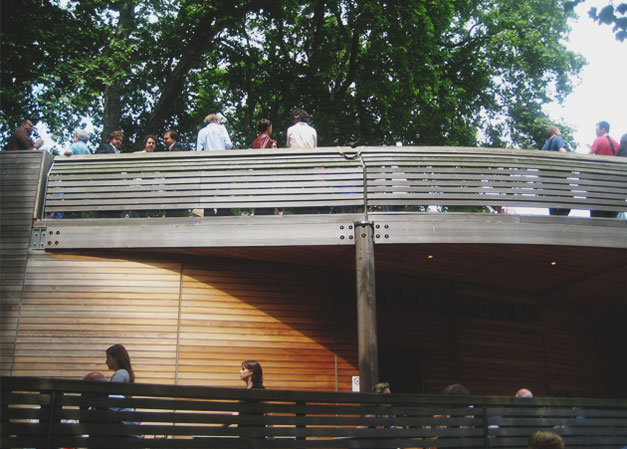 The Jam Tree
If you're after an authentic Chelsea gastro-pub experience (with a slightly spicy twist) make for The Jam Tree. Filled with miss-matched furniture, it rocks a 'rule Britannia' theme and not-so-secret garden. Leafy, blissful and filled with wooden furniture and locals keen to keep this hunt under wraps, hours pass here as you sip on their inventive collection of cocktails and dine on British fare with a Caribbean edge. Exotic yet oh-so London, this venue is cool, calm and sun ready.
Coq d'Argent
Perched high on a rooftop near Bank Station, Coq d'Argent offers a panoramic view of the City of London that's sure to astound. This architecture filled vista (you can see all the way to the Shard) is accompanied by a delectable French-style menu and friendly staff who know their way around a wine list and help you feel, just a little, as if you've been transported to the opulence of Bordeaux – the indoor mahogany paneling and rich leather armchairs strengthen this inkling. The food is rich, flavoursome and lovingly prepared. Created from seasonable ingredients, lunch here is a contemporary culinary adventure.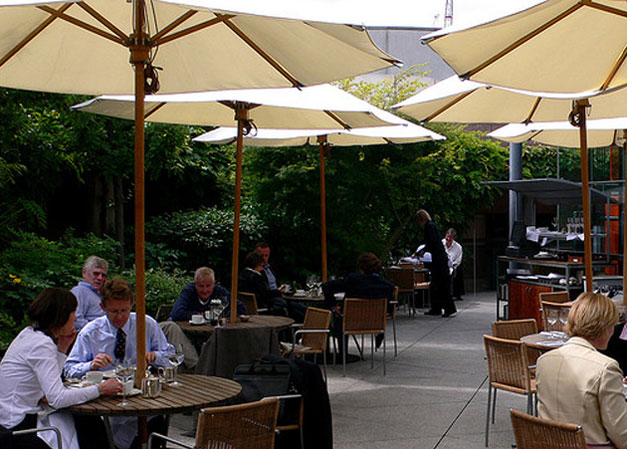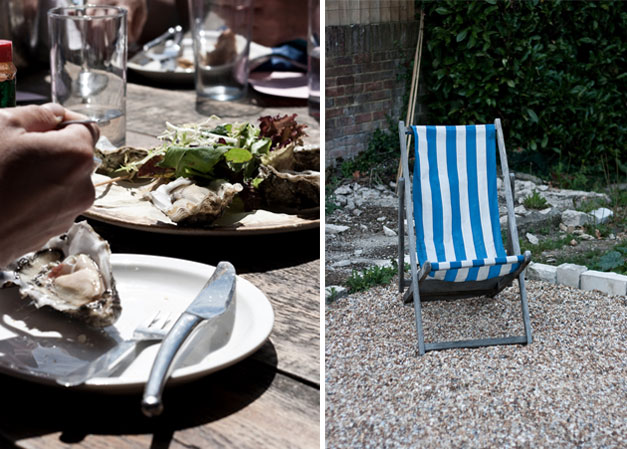 The White Horse on Parson's Green
When it comes to country-style pubs in the heart of London The White Horse on Parson's Green excels. This chic yet inviting local haunt is packed year-round with post work visitors and flavor savvy diners. Drenched in sunlight in the summer months and elegantly warming in winter, dishes here are as English, hearty and fresh as they come. The pea soup is an absolute delight while the brownie and peanut butter ice cream dessert will leave you defeated yet feeling utterly blissful.
Maison Blanc
For something a little different grab a rug and basket and head north to Old-World Hampstead. Pay a visit to Maison Blanc, London's French bakery specialist, and stock up on their colourful salads, sun-worthy smoothies, towering sandwiches and as many of their classic cakes and pastries as you can manage (be warned, these delectable creations are dangerously moreish). Then, armed with all the supplies you could possibly need, make for Hampstead Heath and indulge in a rather delicious continental picnic.
Happy summer dining – all you have to do now is to pray for a spot of London sun.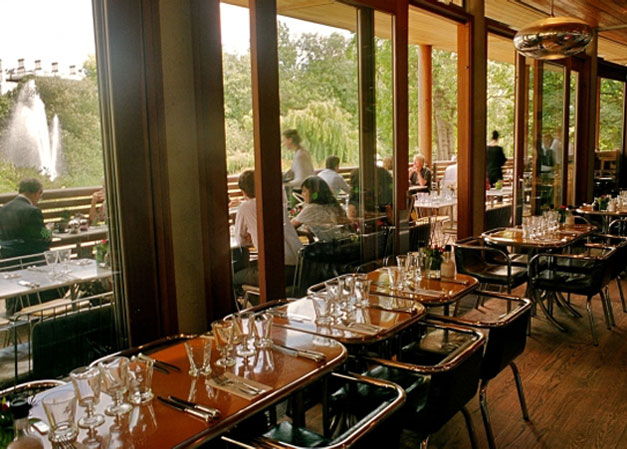 Liz Schaffer

– images Liam Eldret, Leonard Bentley, Herry Lawford