In the early 2000, Dutch designer Piet Hein Eek gained international recognition with his Scrapwood furniture collection, a set of cupboards, tables and armchairs crafted through a creative re-use of reclaimed wood. A genuine reaction to the pervading minimalism that had affected design during the 90s, his homemade style celebrated the beauty of old materials and the aesthetic dignity of no-waste culture.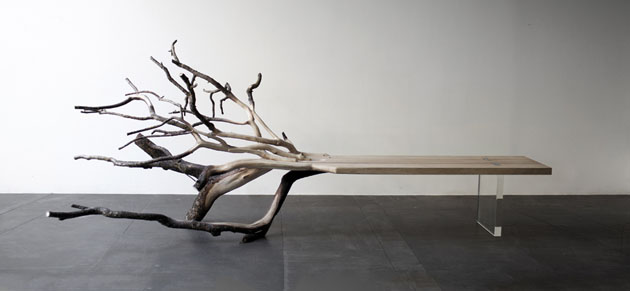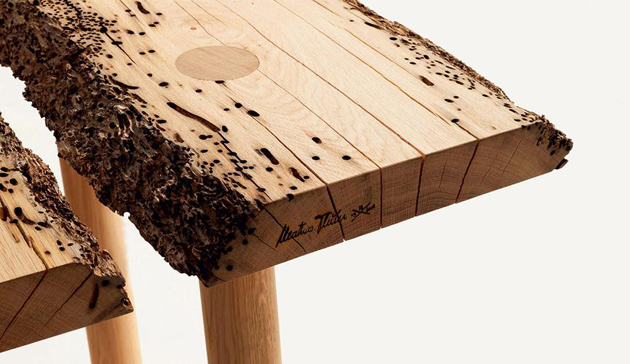 Nevertheless, his glamourification of imperfection went one step ahead the mainstream bricoleur attitude seen before. Instead of assembling miscellaneous junk otherwise destined for the dump, Hein Eek succeeded to ennoble his furniture through a distinguishing feature, an artificial fossilization process under a thick layer of synthetic resin.
Ten years later, designers demonstrate to be more and more passionate about old wood and its potential applications. Riva1920, an Italian manufacturer devoted to massive wood processing, launched two years ago the "Briccole" program, a design competition inviting to refunctionalize the wooden posts that drive boats through the Venetian lagoon.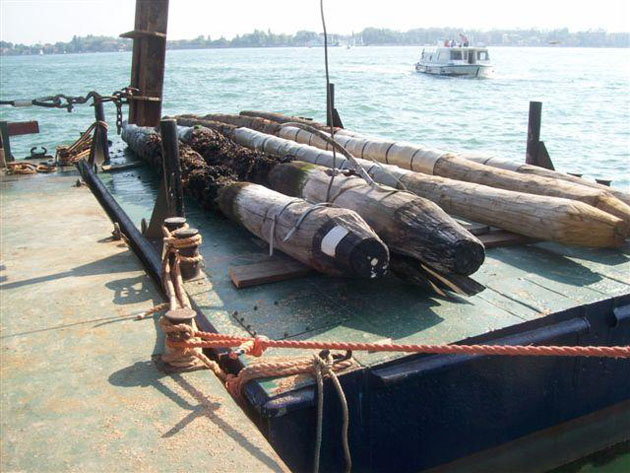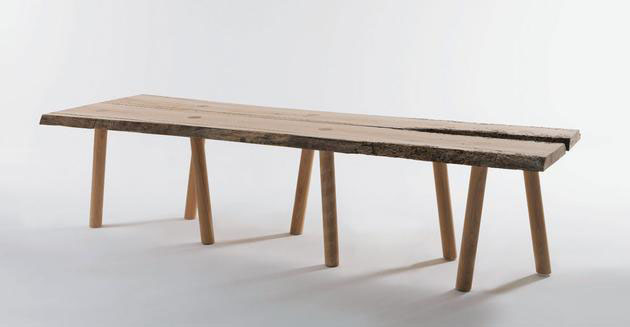 Among the 18 designers who joined the contest, Matteo Thun's table is probably the most accomplished revamping attempt. Its tabletop, made from Briccole slices, is meant to appraise every flaw that comes from the corrosion of salty water, while brand new legs exalt the contrast between old and new wood. One more time, the result is not inconsistent and, above all, it avoids its most insidious risk: being rustic.
Finally, an innovative old wood design example comes from the 2013 edition of Design Basel, where the French gallery Ymer&Malta presented "fallenTree", a limited edition table celebrating the raw aesthetics of a tree as a piece of art. Half table and half branch, this piece is not only a sophisticated example of contemporary cabinetmaking, with no rift between geometric and organic forms. Rather, the branch integration represents the very best achievement of the raw aesthetics: the most sophisticated form of design is to all appearances the most natural one.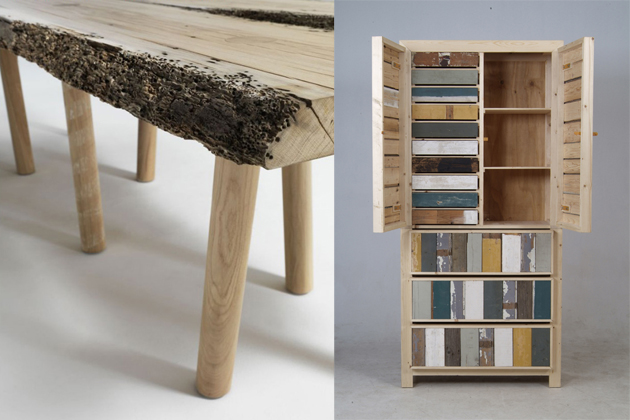 Giulia Zappa – fallenTree photo credit ©Bernard Maltaverne & YMER&MALTA