The Gems of London Fashion Week – Part 2
We are continuing the London Fashion Week tour for next Fall-Winter season. Read the first part here.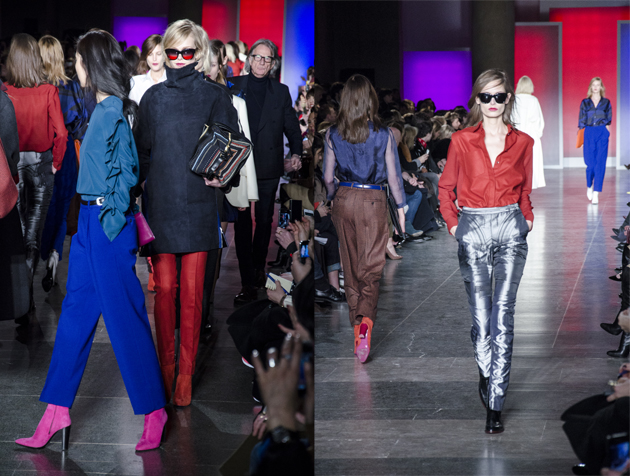 Paul Smith
The man himself is known for his cheerful demeanor, and his clothes followed suit, quite literally. Paul smith showed soft tailored trousers and blazers in jubilant colours, ranging from fuchsia and burnt orange to mauve and cobalt.
The bottom halves were finely twilled and either bag-legged or cigarette in style. The jackets were wide on the shoulders and draped, some sported single breasts while others double. The dresses were cut short and patterned only in an architectural trompe l'oiel graphic. Geometric print found its way on to straight-legged trousers and silken blouses.
There was a resounding 80s overtone to the proceedings, broken up by the Aspen ready shearling polo necks – zipped up the back with tufts of furry curls poking out of the collar.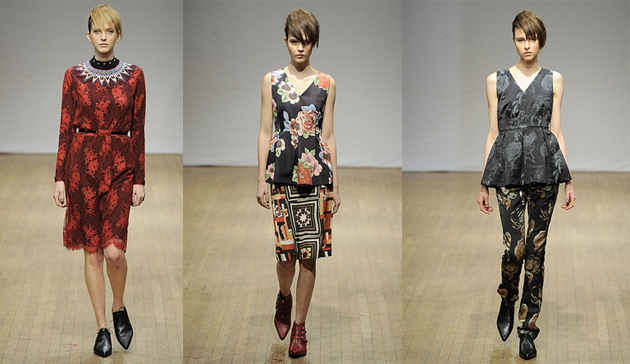 Clements Ribeiro
Graphic flowers blossomed over at Clements Ribiero on Saturday morning. The husband and wife duo introduced vampy lace, detailed beading and ladylike dresses dappled in florals to their standard offering of sporty luxe looks and cashmere cardis.
Clashing was core to the collection. The flower print was inspired by a Brazilian bloom, from Ribeiro's native Brazil, while the quilting referenced a recent trip for the pair to Alabama. The scarlet lace was contrasted to Punk-y quilts and tartans.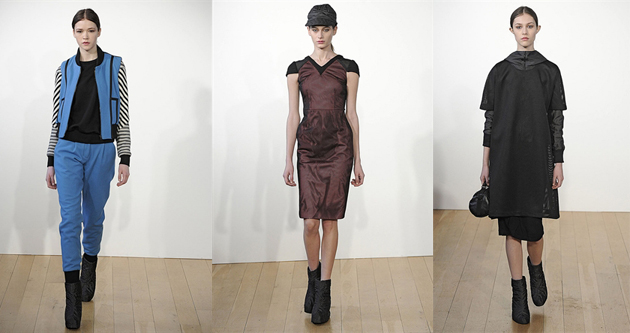 Christopher Raeburn
Christopher Raeburn is a designer who doesn't follow fads. In fact, he riles against them. He is promoting ethical production grounds, but doesn't define his work with it.
For winter he expanded his offering of outerwear and sporty silhouettes made of up-cycled fabrics and lace. With a rustic feel he took on camo-style textures, felted fabrics and water resistant techno-textiles. Lace – a feature of his SS13 range – popped up again, this time heavier and fitted on bomber jackets and decorating the shoulders of dresses. A metallic palate was served up with navy and army green. The success of a dégradé wool was the collections highlight and found its way from bombers on to jumpsuits. This designer's quiet determination to produce eco-friendly clothing away from the hemp and scratchy stereotype is surely working!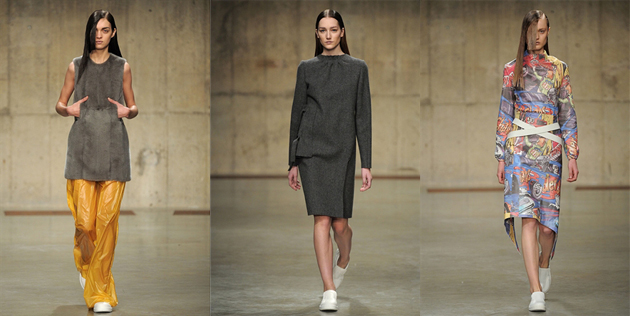 JW Anderson
Recent news that the Irish designer JW Anderson would be following in the footsteps of PPR's latest stable, Christopher Kane, to helm Versace's Versus made many stand up and listen to this London-based label. Known for toying with androgyny, Anderson regularly sends his women out in structured, manly tailoring while his men's line flirts with dresses and miniskirts.
For Autumn in the dank and dark underbelly of the Tate Modern in the space known as the Tanks, he sent out models with slicked-back long hair that bobbed behind tempered tailoring. He played with perception – dresses were open-back smock and long skirts were actually aprons revealing mini skirts from behind. And he toyed with restriction, the mid-length skirts had ties wrapped across the waist and white polo necks were banded with primary coloured strapping that hampered movements. Unusual eyelets and placement holes peppered the collection to show carefully arranged architectural fastenings. In between the restrictive pieces came absurd cartoon strip prints. Almost out of nowhere the patterns found themselves splayed across a sum of two looks.
Fabrics are always a fascinating factor with Anderson. He has always worked with techno-textiles and for winter he experimented with wet look fused fabrics, fur and varnished nylon.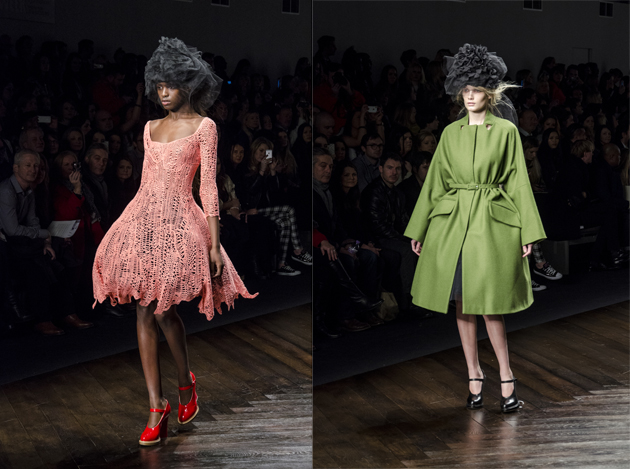 Lucy Morris – First and last photo courtesy of Howard Melnyczuk