Bob Dylan, The Comedian
Bob Dylan's first exhibit at Gagosian Gallery, last year's The Asia Series, was about as scandalous an introduction into the cutthroat Madison Avenue art scene as one could hope for—only it wasn't the good kind. Initially advertised by the gallery as a "visual journal" of Dylan's travels through Asia, it was quickly discovered that most of the paintings were, in fact, identical replicas of photos taken by the likes of Leon Busy, Dmitri Kessel, and a Flickr user named Okinawa Soba who claimed that Bobby had used no less than six—six!—of his photographs for what came to be known as his "paint-by-numbers" exhibit. How did Okinawa know? Dylan incorporated his Photoshopped edits into his paintings. True to his character, Bob kept mum on the subject, but the gallery rushed to revise the show almost as fast as the critics tore it apart.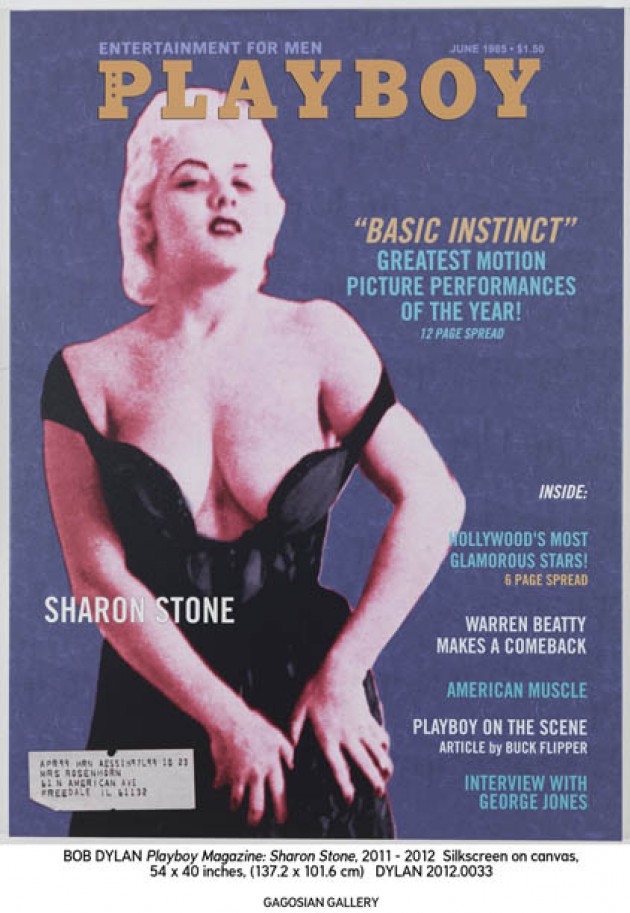 His new exhibit, Revisionist Art, again at Gagosian Gallery through January 12th, follows in a similar fashion, only without all the scandal. With hushed publicity and a more apt title this time around, Dylan proceeds to take a dull stab at what Andy Warhol and his peers were doing fifty years ago—placing pop culture imagery in a parallel universe to expose its underlying absurdity. Not such a bad idea, on the surface. The primary difference between the two artists, aside from the quality of their silkscreens, is that Warhol never tried to make a folk album.
Go to the 5th floor at 980 Madison and you'll see familiar covers of Life, Rolling Stone, Playboy, and Time blown up on canvas and splashed with headlines both goofy ("The Meaninglessness of David Byrne") and blandly political ("Frank Sinatra and Joey Bishop have a laugh at fundraiser for Presidential hopeful Rudy Guiliani"), supplemented by an array of celebrities and politicians who appear naked, smeared in blood, or screaming—and often all three. One decent society lady, on the cover of Architectural Digest, is seen standing in a posh living room, her skirt up, bush exposed, behind a stark title that reads "Houses of the East Coast". Another, Bondage Magazine, advertises "for those who think outside the box". That's about as funny as it gets, which likely explains why the room was empty.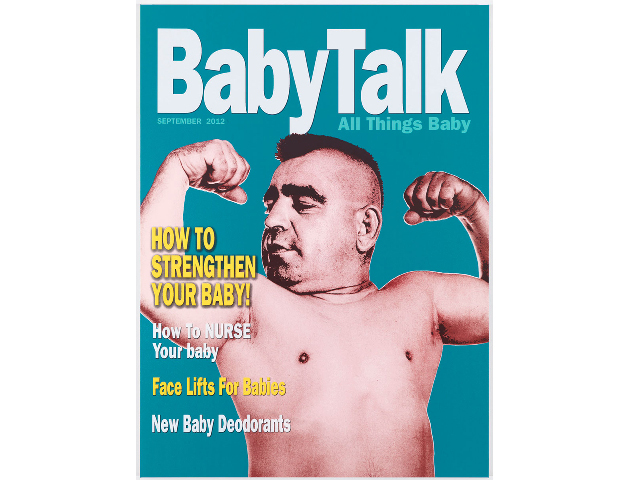 Most of the covers have famous names juxtaposed images of everyday people (like the one whose title reads, "Bare-Bosomed Courtney Love Strikes Back!"), which we think is supposed to mean something, only we can't figure out what. In either case the irony falls flat. "Dylan has long been a contextualizer of his own source material," the official press release explains, in what suspiciously sounds like an apology for last year's exhibit. "His Revisionist art provides a glimpse of an artistic process that is equally maverick and elusive [as his music career]." Elusive, sure. But maverick? This is the guy—we're talking about Bob Dylan here!—who once wrote prophetic lines like, "He not busy being born is busy dying", wrote Blonde on Blonde, a guy whose new album, Tempest, is considered to be among the year's best. But this? Dylan or no, if you've ever had the desire to scribble a Hitler mustache on a picture of Taylor Swift, you've pretty much got the gist of what's going on here.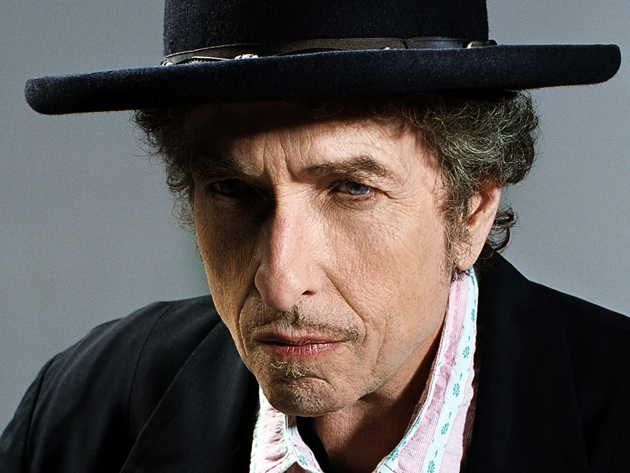 Lane Koivu – Image: © Bob Dylan. Courtesy Gagosian Gallery. Photography by Robert McKeever