Jan-Jan van Essche: Fashion Independent from Trends
32 year old Belgian designer Jan-Jan Van Essche, a 2003 Graduate from the Royal Academy of Fine Arts of Antwerp and winner of the prestigious Dries Van Noten award has just returned to his Antwerp atelier following the presentation of his 3rd collection "In Awe" in Paris.
The Blogazine caught up with Jan-Jan to hear all about his inspiration and philosophy behind his work.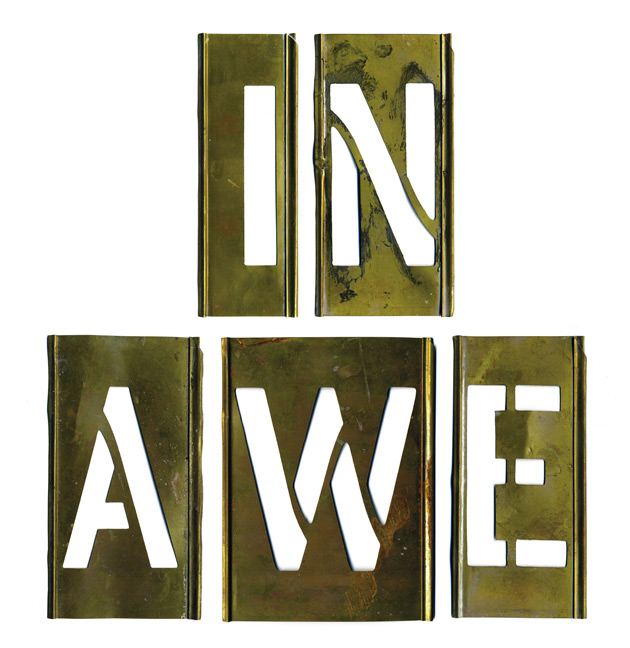 You design only one collection a year, which is a really original approach in today's fashion industry. Why did you decide to create only annual collections?
Partly for practical reasons, so I can take my time and grow into it, to have time to make mistakes and learn from them.
I also realize that I wear my own clothes all year around, I just layer up or layer down depending on the season. It's a practical ingredient.
Secondly it is out of respect for the craftsmanship, cloth making and tailoring; there is far too much attention and love which goes into any garment to make it a "temporary" item which you would put aside after 3-6 months. It doesn't fit my philosophy.
Tell us more about your philosophy, and the mentality your collections stand for.
In a way I am working on a continual line, each of the collections should fit together, so the wearer can combine pieces from 3 years ago with new pieces from the "In Awe" line. Though the collection is presented as a menswear collection, it has a lot of pieces I consider unisex. Most of it is one size, exclusive and limited, each piece is individually numbered.
I traveled for a while in Africa before I started my own label; this has been a big influence and inspiration which continues throughout my work. The line is about comfort and elegance but in a natural way, I'm constantly searching for new forms, shapes and items but without being too radical. I think the men who wear my clothing like calming, soothing and practical clothes; most men don't like to make big statements.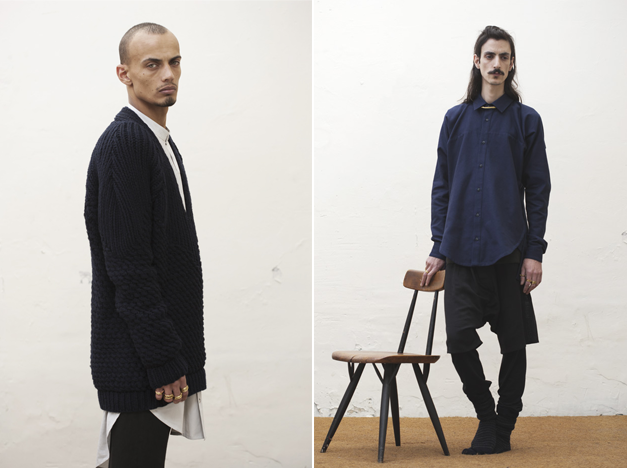 What is your inspiration behind the "In Awe" collection?
"In Awe" is the name of a song by Midnite, a reggae band from the Virgin Islands which I couldn't stop listening to. They are quite a meditative, obscure band, their songs are almost like recited mantras. Also someone used the words "in awe" when talking about my last collection, it was a new phrase for me and I liked it. The line is about pieces I am in awe of, it's less about silhouettes but pieces I want to have in my own wardrobe. Like a trench coat kimono, an over-sized central Asian pant or a European nightwear shirt.
Who wears the Jan-Jan Van Essche label?
Independent, thinking people, people who are into fashion and beautiful things but not in a trendy way. I know quite some women who wear the collection too, mainly the tops. Last year I was in Tokyo and met some people wearing my clothes just as I'd hoped they would be worn, it was really inspiring.
I have an army of about 15-20 people in my head who I design for. I'm still searching for my clients though, I don't know them yet, I am still looking who they are. This will grow as I see my clothes being worn, I want to grow together with my clients.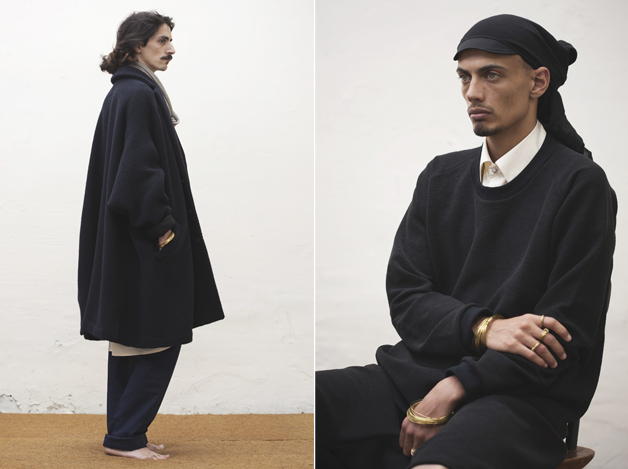 How do you see the future of your label?
Well, I'd like to reward all the people who are helping me who have worked so hard, to keep growing slowly but surely and to stay genuine to my ideas.
What do you like to do outside your work?
Well, there is Atelier Solarshop; a platform for art, design, fashion and other beautiful things that I co-curate.
And when there is the opportunity I like to go to reggae concerts from time to time.
Also two friends of mine started a Sunday morning breakfast club, I try to go as often as I can, for the amazing food, the lovely people and the great atmosphere. It strengthens my inner self both mentally and physically.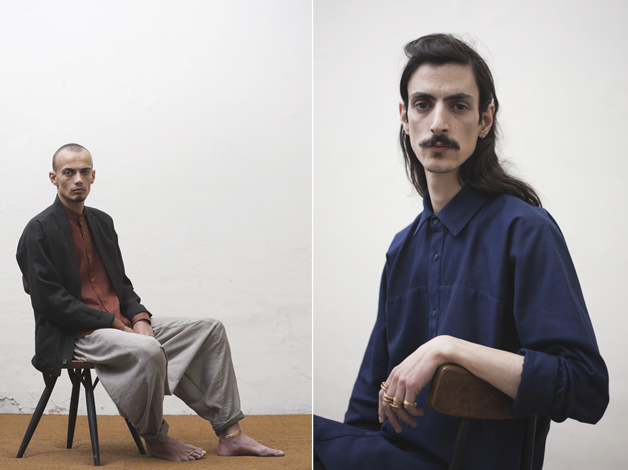 Tamsin Cook