Awakening Of The Rainbow Dragon
MAAYA SHO started calligraphy at the age of 6, and has ever since been developing his distinctive approach towards ancient script, originally carved on strange materials such as tortoise shells or a piece of bull scapula as a method of fortune telling more than three thousand and a couple of hundred years ago in China. The unique and beautiful shapes of the script embody the very origin of its meaning, later evolved into Kanji [Chinese character], which inspires us to imagine the ancient people's way of living and their interpretations of the world.
His works are in Thai Royal Family Collection and his handwriting can also been found as one of the official logos of the Louvre Museum and as collaborations for example with fashion maisons and restaurant designing. His unique style 'Queen of the art of calligraphy' was fully demonstrated in his outstanding exhibition and performance in Tokyo last April, in which he showed his latest work Ten-Ryu Ji-Ryu I (Heaven Dragon Earth Dragon I).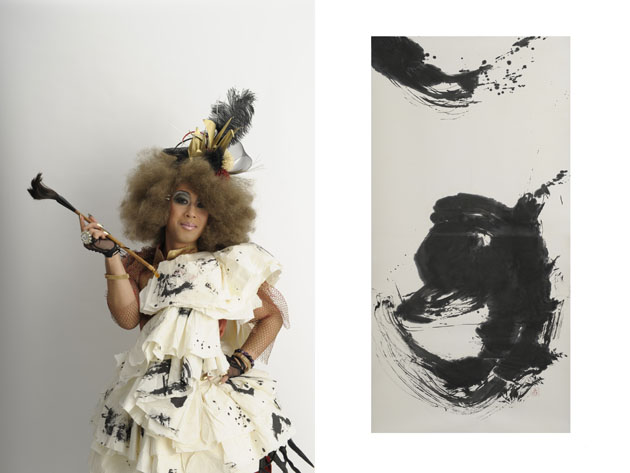 The Dragon is revered and considered as the eminent spirit in Oriental culture. In his exhibition, two Dragons – Ji-Ryu is considered as a symbol of anxiety or frustration in the modern society while Ten-Ryu is a symbol of purifying and extrication – inspired us to meditate on 'liberation of the mind' in our age, especially after the 3.11 earthquake, which was a critical turning point in his creative life.
"After the earthquake, I couldn't take up my ink brush for a certain while. An intense feeling was deeply engraved in my mind: 'Tomorrow is promised to no man, it's as uncertain as the wind.' It was then when I decided to change my name from MAAYA to MAAYA SHO. 'SHO' is the term placed after your name as your signature in calligraphy. Including it as my name itself meant that I was then determined to live with calligraphy forever."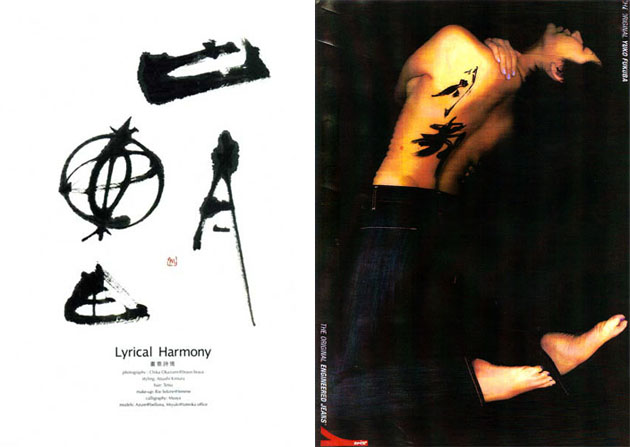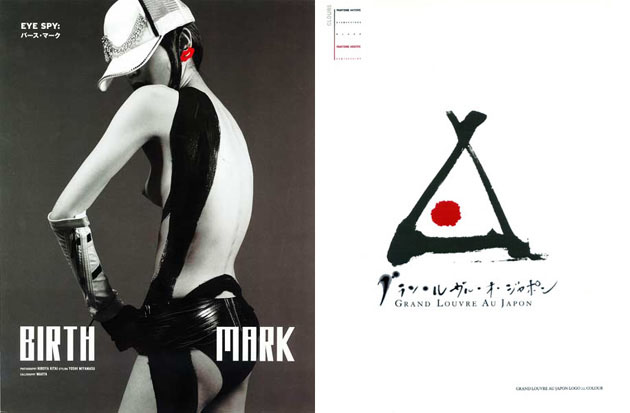 Since then, one of his intriguing approaches came to fruition in the form of the opening of his workshop on each new moon and full moon.
"Through my workshop, I would love people to know the power that words and Kanji have, also to feel the joy of the art of calligraphy. The workshop takes place twice a month, on the day of the new moon – a powerful day to make your wishes come true – and on the day of full moon when the creative energy grows highly. In my workshop, I help people to choose one word, which could be their favourite, part of their name or my suggestion based on Kyusei Kigaku (an ancient method of Chinese fortune telling). You write the word in ancient script, which is very graphic, and the word could be seen as your lucky symbol. The process will help you meditate on people's communication, caring mind and the purposes of life at each stage. The most potent way is to do it with positive affirmation messages. Always, in present tense."
Every form of life starts from the present. For MAAYA SHO himself, the one word that embodies his feelings now in the Year of Dragon 2012 is '明' which literally means 'light'. In ancient script, it describes the moonlight coming through the open window.
"You know, I love happy endings." he smiled.
Ai Mitsuda – Images courtesy of MAAYA SHO