Walking in the woods and unleashing ones thoughts
Il faut cultiver notre Jardin
Voltaire
"We must cultivate our garden" concluded Candide – the character of Candide: or, The Optimism, one of the well known novel by Voltaire – condensing the idea of life of the French writer, historian and philosopher who rejects Leibniz' mantra "all is for the best in the best of all possible worlds" in a very direct and sarcastic way. According to it, all human beings can do is to try to let their world become as good as possible and fulfilling it with their own experiences and values, independently from external influences.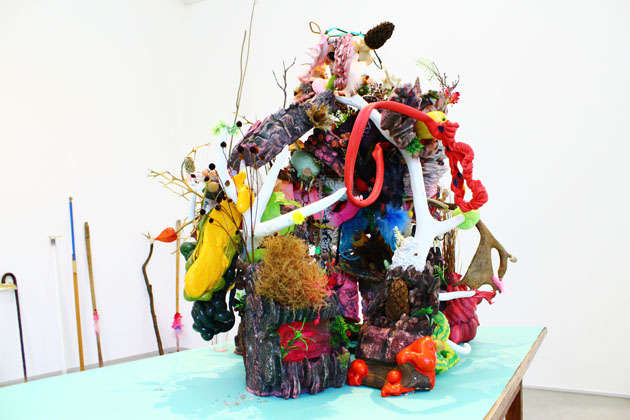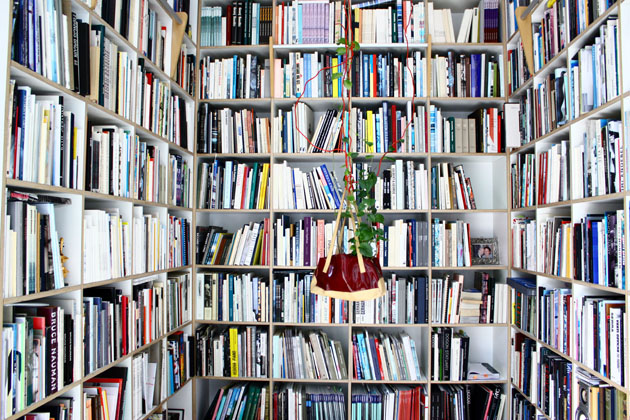 Exactly this sentence seems to frame the sense of Gerda Steiner (b. 1967) and Jörg Lenzlinger's (b. 1967) art. Tangles of seeds, stems, branches along with animal bones, artificial plants, toys and unusual objects are picked up from different environments where the Swiss artist couple has lived. The objects inhabit their unique, imaginary and epistemological cosmos. With any apparent connection you find kitsch and worthless things: a toy robot, pieces of Chinese fountains, old stuffed animals or small plastic spiders. They coexist with biological and personal elements in a harmonic and poetic way.
The old bag of Jörg's mother, hung on the ceiling in the middle of the library, contains a climbing plant which tends to the overhead lighting (Handtasche). A suspended twisted installation made of spawns, branches, plastic flowers and a pink teddy bear (Luftfisch) welcomes the visitors at the entrance of Buchmann Galerie in Lugano, Switzerland.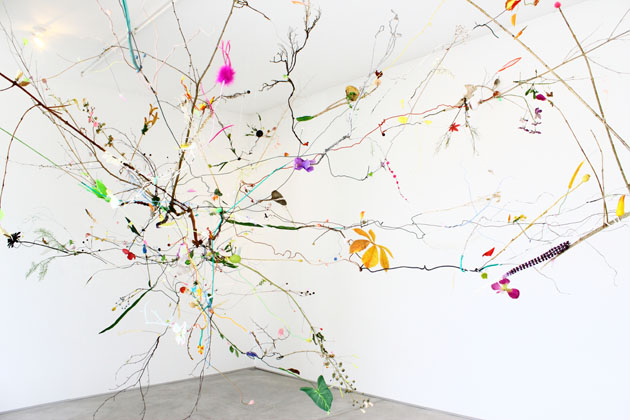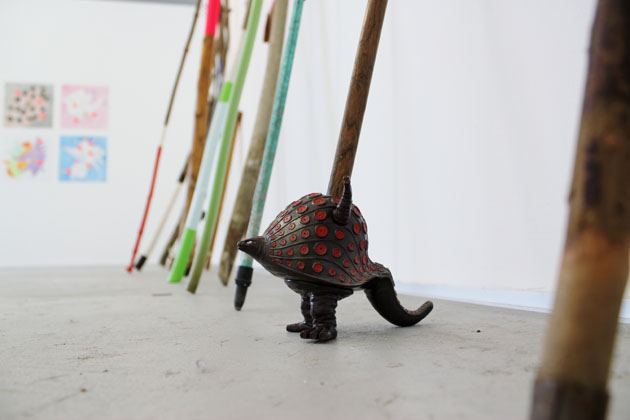 The whole venue is dipped in a flourishing garden full of artworks – Tony Cragg's sculptures, works by Lawrence Carrol, Giuseppe Pentone, Felice Varini and Lawrence Weiner just to mention a few.
This amazing gallery building, a block of cement and glass, hosts also a collection of Steiner and Lenzlinger's visionary walking sticks, a bizarre Chinese cave and a huge web, which embraces a room with its loaded tentacles. The artists, with their naïve and genuine allure, embody a sort of aesthetic of frugality full of content and able to intrigue viewers. It's hard not to admire the brightly coloured organism (photo below) treated with a synthetically produced fertiliser that's generally used in the agricultural industry, that grows fast as if it has been fed with the cakes of Alice in Wonderland (Isabel Friedli, Cultural Goods, text in the catalogue of the show).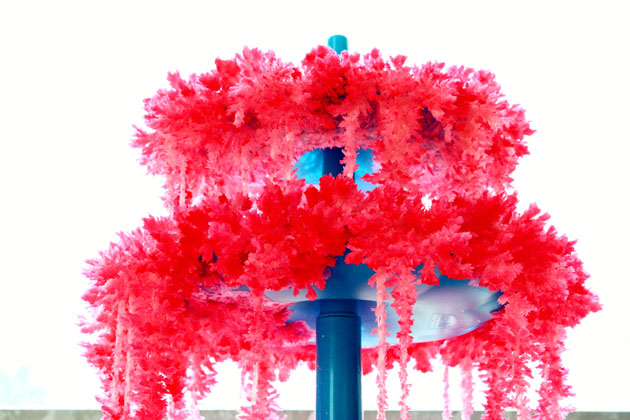 The exhibition entitled Im Wald spazieren gehen und die Gedanken von der Leine lassen ("To go for a walk in the woods and unleash ones thoughts") is a perfect merger of experimentation and research of an original language hovered between science and imagination both joyful and unsettling.
The solo show by Gerda Steiner and Jörg Lenzlinger will run until July 2012, open by appointment.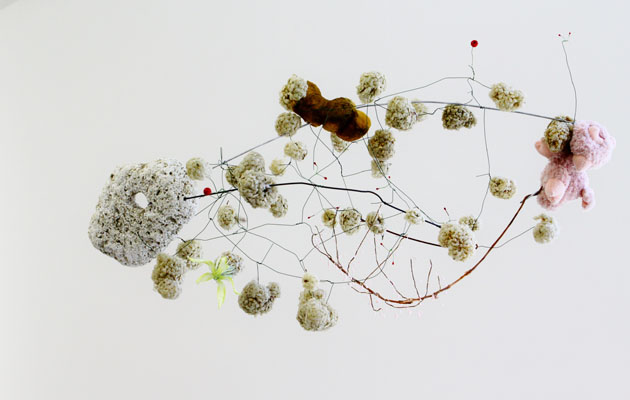 Monica Lombardi – Images courtesy Buchmann Galerie