Depicting Fragrances
Design has always been a fundamental element in the process of creating a new perfume. The bottle, which contains the essence, very often becomes its symbol; the image that gets fixed in people's visual memory and turns itself into a key factor for establishing and furthering its identity.
With Acqua di Giò in 1996, Giorgio Armani contributed to change the fashion approach of contemporary men, who are more and more focused on the details of their personal and casual style. After sixteen years, the renowned brand presents a new fragrance: Acqua di Giò Essenza, a more intense and sensual version of the original scent, which owes its appearance to Alberto Morillas' nose, and embodies the spirit and the characteristics of the 21st century man.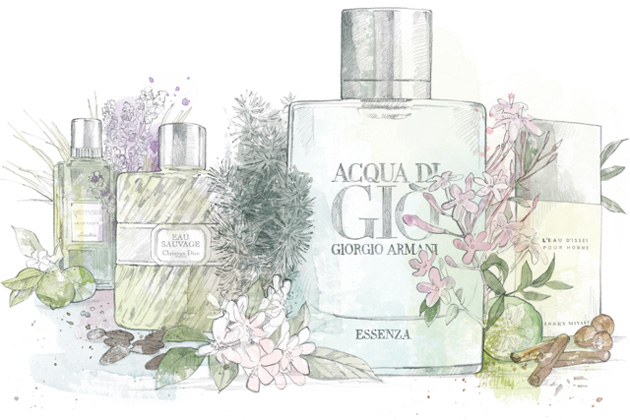 The Italian newspaper Corriere della Sera through Giancarla Ghisi's words – accompanied by Karin Kellner's pencil – retraced the main steps of the history of masculine perfume. 2DM's illustrator, with her delicate and romantic mark along with her peculiar sensitivity, borrows the key elements of master perfumers to depict some of the best-known essences ever. Jasmine flowers, rosemary branches, violets, lemons and bergamots surrounded the bottles of Dior's Eau De Savage and Issey Miyake's L'Eau d'Issey, both of them dominated by the new scent of Armani.
Once again the expressive power of Karin's drawings joins the allure of perfume world, giving birth to a marriage with a perfect and total harmony.
From the Bureau – Image Karin Kellner