.
Copperwheat -Punk, Prints & Potential
There are a lot of facts one could find interesting when talking about the London-born and New York-based Copperwheat cousins, Ben and Lee. Lee has been teaching at Central Saint Martins and Royal College of Art, he is the Copperwheat of the Copperwheat Blundell label, and his freelance list of work includes names such as Marc Jacobs, Stephen Burrows and Coach.
Ben has a Master's Degree in Printed Textiles and a position as Senior Print Designer at Calvin Klein Jeans on his resume, and his portfolio holds work for Isabella Blow, Gucci, 3.1 Philip Lim and Tommy Hilfiger, among others. What is of more interest is their joint talents and effort put into the eponymous label Copperwheat that they established in 2009, aiming to bring a fresh angle into menswear.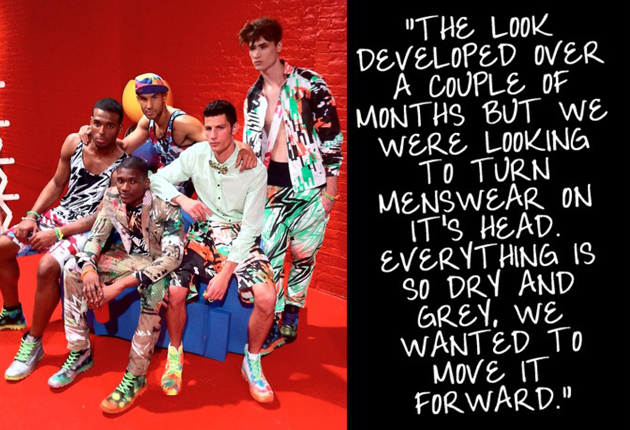 "London To New York", the debut collection for S/S10, laid down the 'frames' for the upcoming seasons of bold colours and prints, and even though there has been a shifting level of vivacity in the subsequent collections, the strong aesthetics and image are continuously coherent. After a, in comparison, rather somber F/W11 collection, Ben and Lee went back to the vibrant and eccentric and presented "Smash It Up!". The S/S12 collection surpassed their previous work and took the brand's pulsating prints and colours to a new level of interesting; a slight hint of 80's punk references and a mash-up of everything you could expect from a brand like Copperwheat.
The last season has been cheerful for the brand and some of the attention is the outcome of the collaboration with Cappellini. Both the S/S12 presentation and the Fashion Night Out event – which ended up on Vogue's Top Ten list over FNO happenings – were held in the Cappellini SoHo store, emphasizing the brand profile of Copperwheat. Menswear is not changing as rapidly as the women's fashion, but with a lot of potential on the market, a brand bold enough to keep it interesting both through the actual clothes and also through what happens around the brand, might be able to add something to the evolution.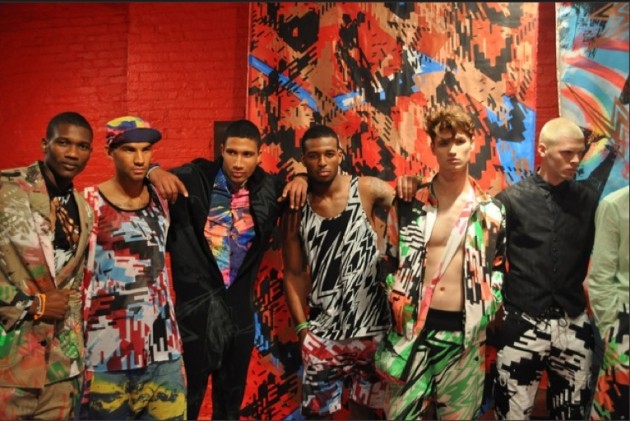 Lisa Olsson Hjerpe – Image courtesy of Copperwheat