Alfabeta2, A Place For Cultural Intervention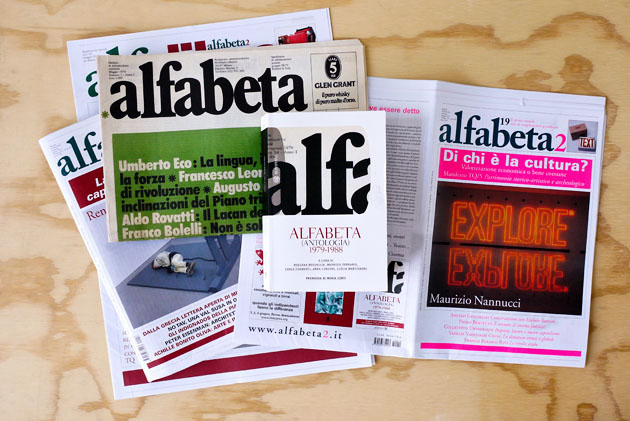 What is Alfabeta2 and why we have chosen to talk about it? To answer this question we must jump back to the end of 70's and, to be more precise, cast our mind back to the time (from 1979 to 1988) when a monthly magazine entitled Alfabeta was issued. The periodical, conceived by the Italian poet and writer Nanni Balestrini with the collaboration of important intellectuals – among which the well known semiologist, philosopher and writer Umberto Eco – was one of the most interesting and unique editorial experiments of that period and a centre for cultural and political discussion in Italy. People with different backgrounds could find there a place to dialogue and exchange ideas about books, other magazines, exhibitions, theatre and cinema, reporting news and cultural events.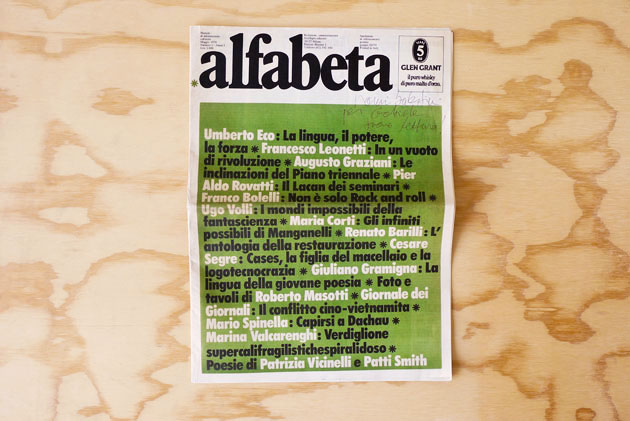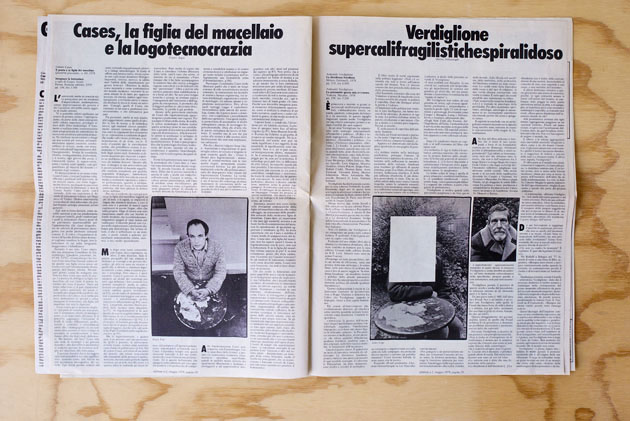 Contributors of the likes of Gillo Dorfles, Lea Vergine, Achille Bonito Oliva, Stefano Zecchi, Ugo Volli, Renato Barilli – perhaps for some of you these names don't mean anything, but they are part of our cultural heritage – enlivened Alfabeta with long and complex articles and reviews, which conveyed the main current issues while entertaining the audience. Well, after more than twenty years from its closure, the magazine got unexpectedly back to the newsstands almost a year ago and today represents a singular and unusual publication; something that 'communically-speaking' seems to be totally out of our time.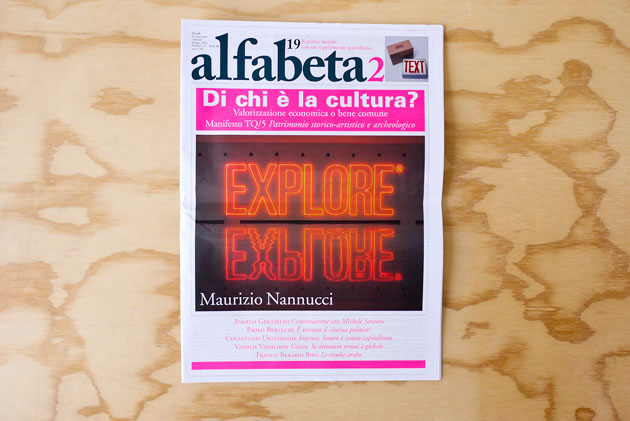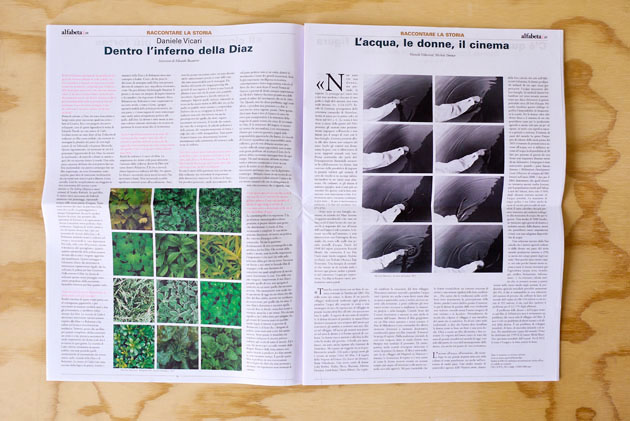 Even if the new issue has opened to the changes introduced by the Internet and the new technologies – the website is constantly updated and documents and videos are spread through the main social networks – the contents are far away from the reading proposals in vogue today, where the 'like' option as a critical approach dominates. The texts are long and written in a refined language and the images are few and strictly connected to a single artist chosen month by month like Jan Fabre, Giuseppe Penone, Emilio Insgrò, Michelangelo Pistoletto or Fabio Mauri.
Somebody could think that this magazine seems a bit boring, pretentious, somehow too difficult to understand, and certainly not comparable with lifestyle magazines to flip through. Looking at the pictures, some others could say that intellectuals don't exist anymore and this kind of language is outdated. Alfabeta2 required concentration, reading keys and an effort to delve into the issues that usually our nihilistic hedonism solves with a simple sentence: 'I try not to think about it'.
We are not nostalgic and doubtlessly we aren't short on lightness, but since we are not just 'profiles', we always pick up ours ears and think that enriching our cultural background and knowing what happens around us is a way of using time, which never goes out of fashion. The May issue is now on the newsstands with a provocative question: 'who owns the culture?'… What you think?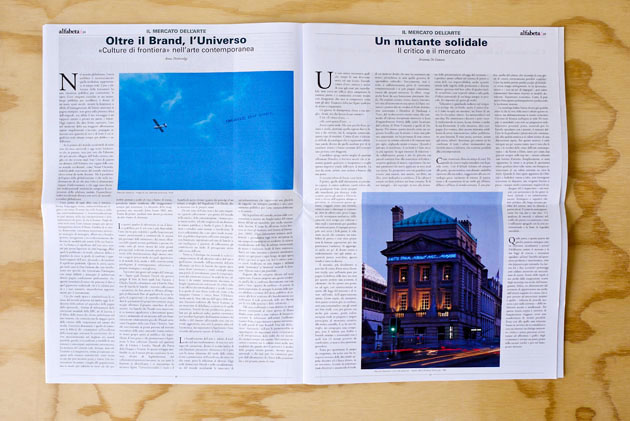 Monica Lombardi