Ryan Mrozowski at Pierogi Gallery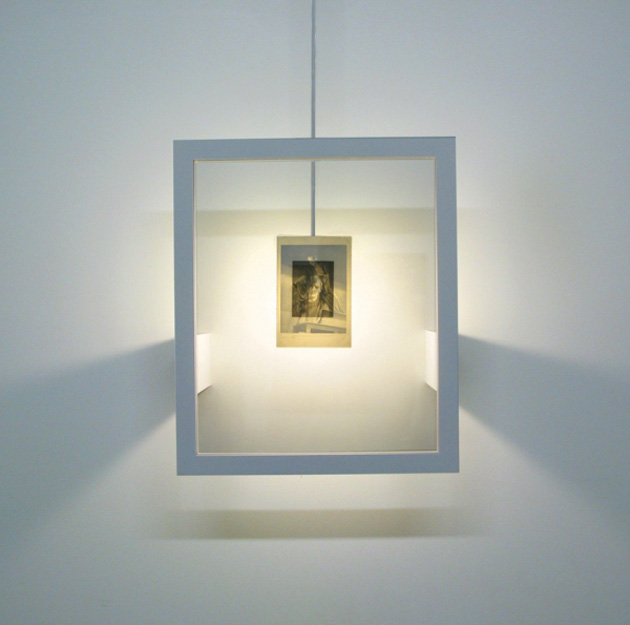 "A Mouth That Might Sing," Ryan Mrozowski's third Pierogi exhibit in three years, kicked off at the popular Williamsburg gallery last Friday (April 27th) and runs until the last weekend of May. The title is a fitting one: Quite a bit of Mrozowski's work features spectators sitting in a theater, waiting in anticipation for some sort of spectacle. Much of the room in his paintings are devoted to the back of people's heads. Inside they appear to be asking the same question we ask ourselves every day: What is going to happen next?
Mrozowski, a Philadelphia native who has been living in Brooklyn since earning his MFA from Pratt in 2005, repeatedly takes familiar objects—baseball cards, book pages, advertisements—and removes the main focal point, leaving a mere shadow of an outline in its place. The viewer can't help but see themselves somewhere in the void. This makes me anxious for two reasons: (1) Something is happening to me; (2) I don't know what it is.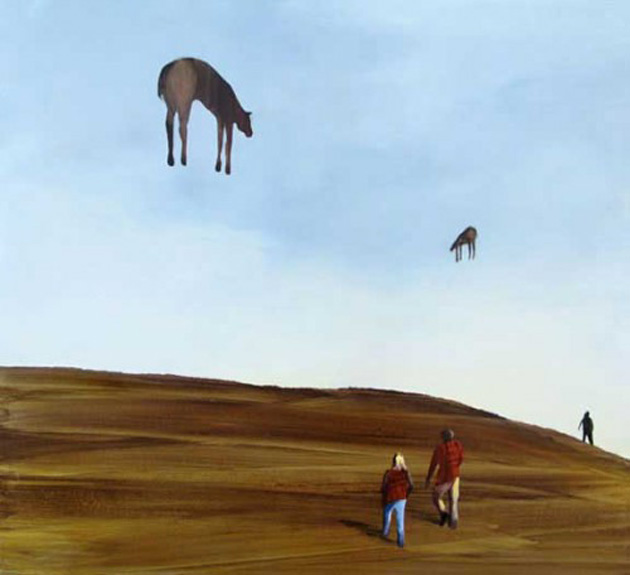 Paintings like "Skirmish" and "Enthusiasts" focus on the audience, not the stage, turning the regular paying folks into the real spectacle in the process. (Isn't the audience always the real spectacle? Experiment: Try going to the movies in Union Square on a Friday night.) Another, "Molecule", features a dog with no neck, his head floating aimlessly above his body. Part Helmut Koller, part Francis Bacon, "Molecule" manages to be clean and violent (the dog is alive, but he has no neck) without being over the top or kitschy (the dog looks proud). Like most of the work on display here, it's simultaneously disturbing and familiar, like a herd of cows floating above their grazing grounds.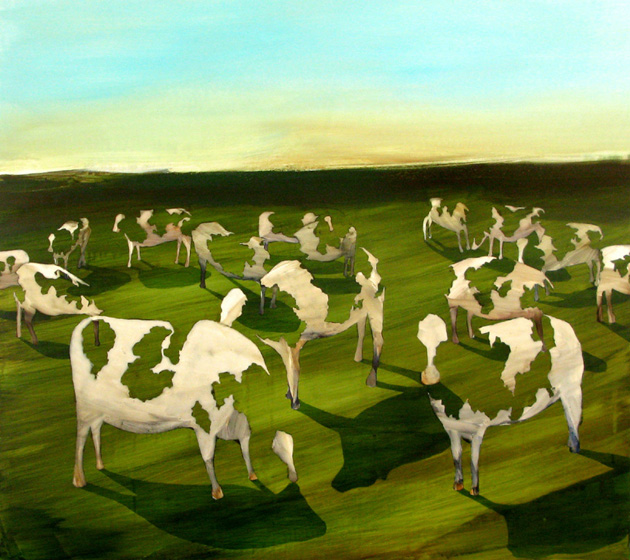 A notable addition to Mrozowski's oeuvre is his recent "Book Page" series, in which double-sided found book pages are floated over a single light bulb to create a hybrid image (a third image, to be exact, or as the PR people like to call it, a "hidden collage") that distorts the viewers' depth perception. Likewise, the short film "Palimpsest" shows a girl lost wandering an apartment doing ordinary things—going to the fridge, navigating furniture, slamming a door in sheer terror—while falling in and out of her own shadow. We may not physically fall out of our own shadows, per se, but we've all been here before: confused, rattled, and in the midst of a late-night existential crisis when all we wanted was a drink of warm milk to help us back to sleep.
Ryan Mrozowski at Pierogi Gallery, 177 N. 9th Street, Brooklyn, NY, April 27th—May 27th.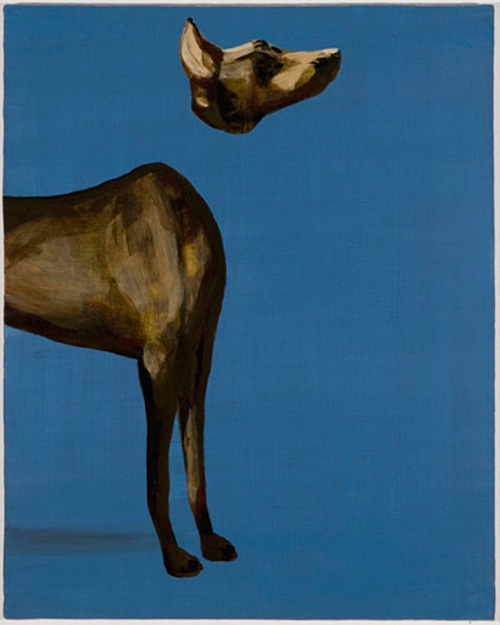 Lane Koivu – Images courtesy of Pierogi Gallery