Meeting Tim Coppens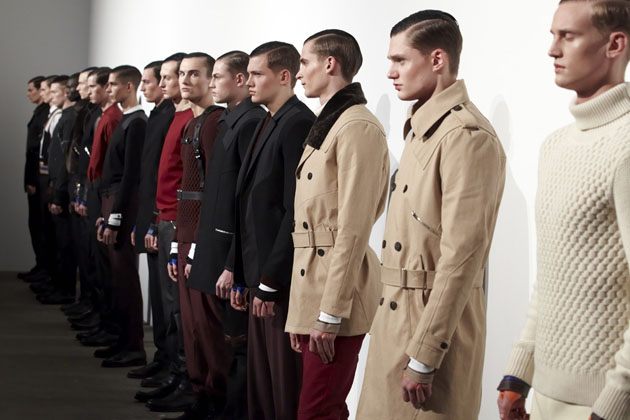 Another time around, Tim Coppens created some hard-earned murmur about the eponymous brand during New York Fashion Week. With references drawn from the film 'Drive', tailoring marked by extreme care in details and a color palette adding sophistication to the otherwise dynamic and slightly aggressive aesthetics, Coppens presented his third menswear collection, FASTER, for Fall/Winter 2012/13. His image of the modern man goes beyond the classical structure for menswear. "I don't think there is one specific clothing that fits every man", the designer said when the Blogazine caught him for a quick chat somewhere between New York and Belgium.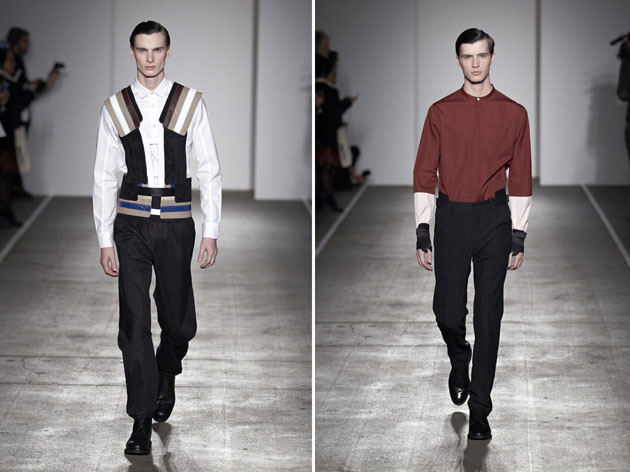 In your F/W12 presentation, details from motocross and ice hockey gear had a strong influence on the details and athleticism is reflected in your collections. What is your personal relation to sports?
I grew up riding BMX and skateboarding and did that for about 14 years. The reason why I went to certain cities with friends was to skateboard and find the best spots. The last couple of years I have been into long distance running and cycling. I am attracted to individual sports where it's more about going further and further, getting to know your limits. For me it's a really good way to think and structure ideas. I'm not a big fan of group sports but I do like sports like ice hockey, rugby and American football where it's more about the warrior athlete dressing up in battle gear getting ready to defeat the other team. The dress code and the protective armor are really interesting objects.
Does any specific type of music or places inspire you in your work?
I listen to a lot of music. But I also notice that I filter a lot more than I used to do, and doing that I also realize that I go back to the old records that I bought and loved to listen to, whether it's Kenny Larkin or the Screaming Trees. I don't have a favourite band. Places and music are connected.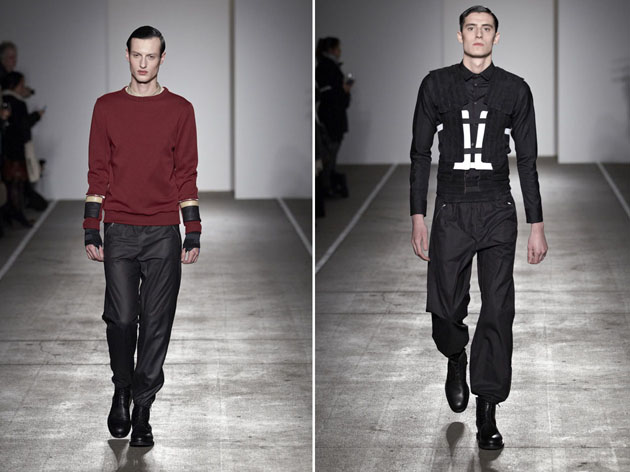 The Fall 2012/13 collection is beautifully composed with the materials complementing each other and the meticulously worked-over details catching the eye. "I like compact materials, whether they are cottons or wool, et cetera", Coppens said when we talked about what combinations of materials her prefers to work with. When talking about Tim Coppens, it is impossible to not speak of colors. His previous collections have been noted for some of the graphical elements that we don't see for Fall. Instead we find the continuous subtle feeling of color blocking, given some extra vivacity through a few well-placed dashes of bright blue. The collection, which is described to have an aggressive edge and is very masculine and active, yet have a sophisticated side to it. We asked Mr Coppens if this somehow reflects on how he sees the 'Tim Coppens man': "I think so, yes. The masculine and sophisticated edge is something that is really important to me. Although, I have noticed that a lot of women like wearing my bomber jackets."
Coppens, who was born in Belgium, graduated from the Royal Academy of Fine Arts in Antwerpen, and 2012 he is being noted as best new menswear designer of the year with the Ecco Domani award. Antwerpen and New York are both renowned fashion cities and the home of several noteworthy designers. Today he has chosen to live in New York, where he, as previous mentioned, also shows during Fashion Week. "I prefer spending my time in New York because it's home for now. But I do like going back to Belgium from time to time."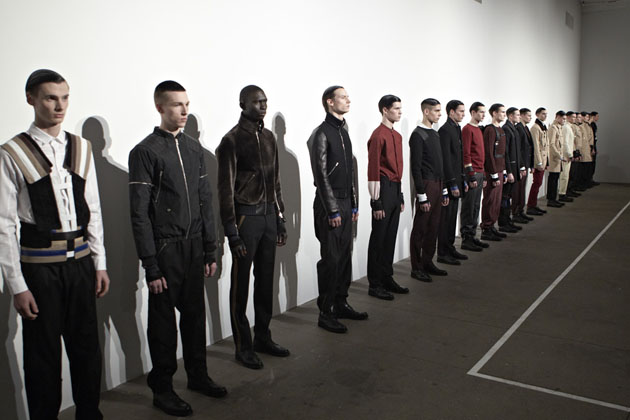 Lisa Olsson Hjerpe with a special Thank You to Tim Coppens