Ward Shelley: Unreliable Narrator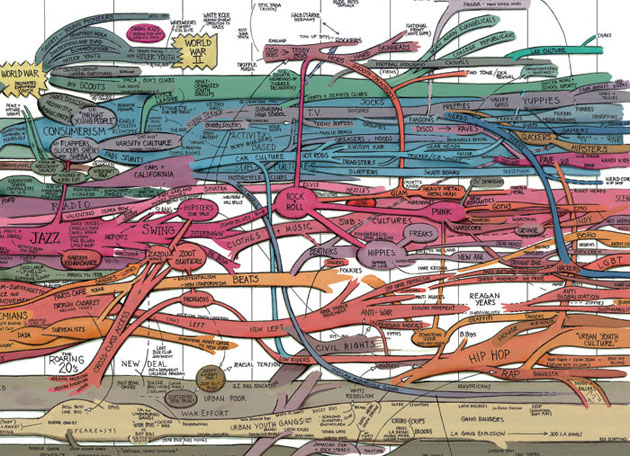 Ward Shelley likes to make maps. Not of cities, countries or continents, but of cultural trends, literary genres, and social movements. And he likes to fasten his topographical expeditions underneath the skin, within the realm of the body, exploring and tracing his curiosity through the highly intricate human network of arteries, veins, and internal organs. His fascination lies in exploring the existential question posed by David Byrne over thirty years ago, and with the same shrug-of-the-shoulder immediacy: "Well, how did I get here?"
The only difference is that Shelley takes the question a bit more literally, preferring to explore every detail to the most minute edge of his conscious mind. All of which leads us to his current exhibit, Unreliable Narrator, which will be on display from February 17th to March 18th at Pierogi Gallery in Brooklyn—the same gallery that first showcased his live-in installation We Have Mice (where Shelley spent a month living between the walls) and has represented Ward for years. Pierogi first opened its doors in 1994 to painters, sculptors, film and multi-media artists, and has spent much of its time and effort showcasing New York-based underground notables whose work you've seen but probably never heard about.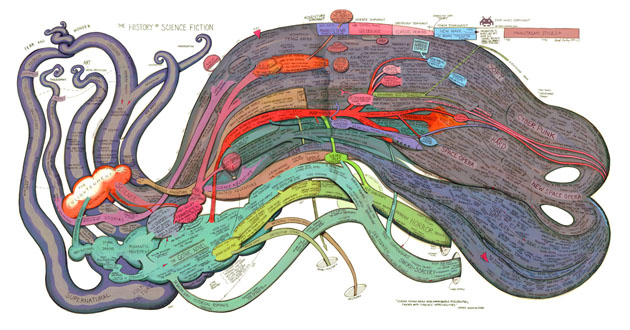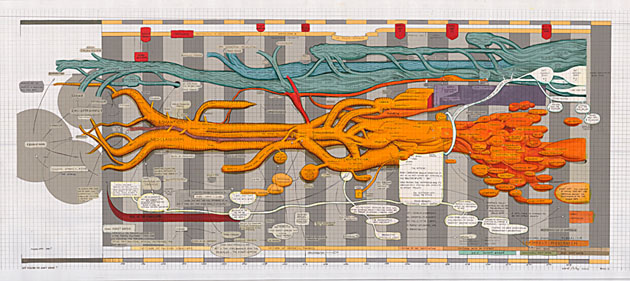 Shelley is equally allusive—he started his life as an artist around the same time period, having his first show in 1990—although no less notable. There's no reason for him to be "underground", nor is he "difficult" or hard to get in any sense of the terms. Shelley is, in a nutshell, of the now. He's quite straightforward, at least as far as history and pop culture are concerned, preferring to obsess over, cut up and document the history of downtown New York, science fiction, and Williamsburg—101 topics for anyone with a fascination with Gotham City.
He is the first to admit his role as an unreliable narrator, having done so nearly a year ago in an interview with Slate, saying "It would be easier to do [my paintings] on a computer than by hand. But the reason I do it by hand is that one of the important ethical points to make here is that, in the end, this is one person's point of view. It has no real authority." In that quote he was ramping against (and in support of) the level of criticism he received for his piece The History of Science Fiction that left many ardent followers of the genre—enthusiasts, forum geeks, under-performing fathers—with a lot to say of their own personal taste. To Shelley, that's the point: We all have opinions; no history or taste can ever be absolute. If his goal was to spark controversy and conversation in regard to the subject in question (in this case, science fiction), then he certainly succeeded.
Unreliable Narrator will provoke similar emotions. As the title suggest, these familiar infographic formations—intestinal charts, diagrams, intricate histories—lay bare Shelley's acute attention to detail, putting his observations and private fascinations on full public display, for all to scrutinize and obsess over.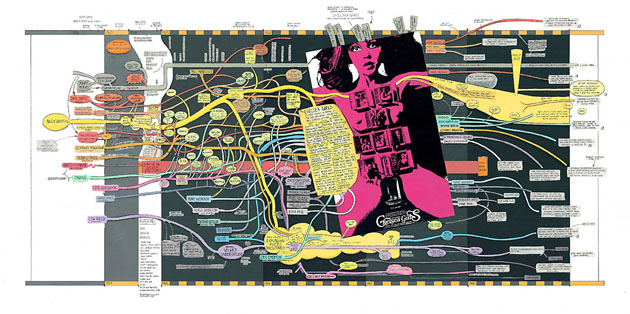 Ward Shelley's Unreliable Narrator at Pierogi Gallery, 177 N. 9th Street, Brooklyn, NY, from February 17 to March 18, 2012 .
Lane Koivu – Images courtesy of Pierogi Gallery & Ward Shelley