Segalega / Zero + Giò Marconi
June and July are usually not the best months to see exhibitions in Milan. The artistic season has essentially drawn to a close and, except for some blockbuster institutional events, most of the time, people can only find slack summer shows proposed by art dealers who are planning to leave the city until September.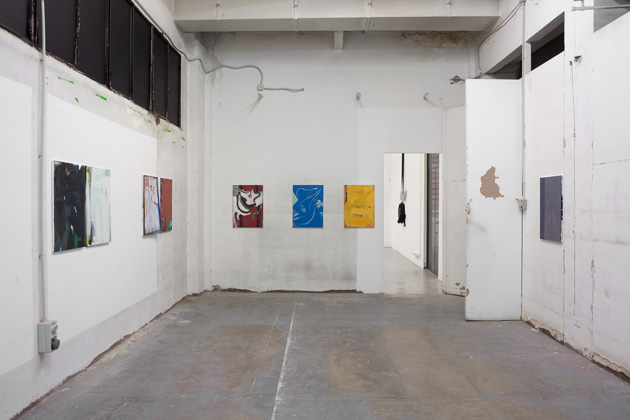 But Segalega, the unusual group exhibition split between two of the most important galleries in Italy, Gio Marconi and Zero, doesn't fall within either of these categories.
It seems that the show has been thought to hold the interest of the small 'community' of art lovers, who keep on going to visit galleries, in spite of tropical heat of Milan.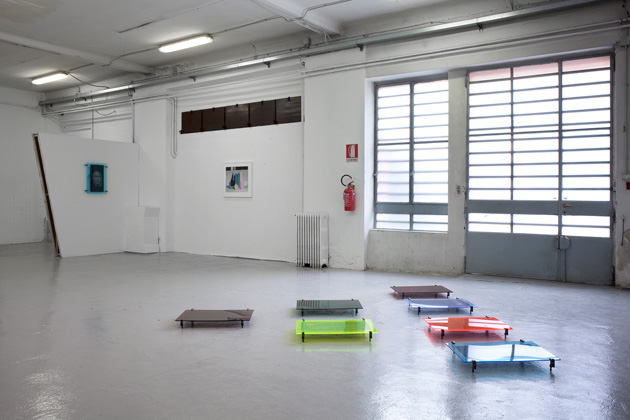 The project, running until last week in the two venues contemporaneously, came out under the pretext of overlooking the same street (via Tadino near Porta Venezia) and features some rather remarkable works. The exhibition opened with a weird and amusing performance by Marcello Maloberti untitled Doppietta, in which two people – one black and one white – wearing alpine uniform, crawled side by side from the first gallery to the other one and roamed around the visitors, who were watching the shows.
Among the works presented in both the art spaces, Kerstin Bratsch, the German artist, based in New York, draws the attention with his colourful pieces where subjects give the impression of being trapped between two boards of Plexiglas and make fun of painting. Rosa BarbaRosa Barba's installation entitled Invisible act, on display at Zero gallery is characterised by the usual elegance through which the Italian artist, who lives in Berlin, is able to create sculptures that seem to be made of light. But a special note goes to the Andrea Kvas (b. 1985), who makes his debut among the already known international artists John Bock, Massimo Grimaldi and Markus Schinwald. Courageously, Zero dedicated one room of the gallery – in a sort of solo show – to the young artist that shows small works on canvas, which privilege the gesture.
With many ups and just a few downs, Segalega gave the opportunity to see a satisfying number of works, which truly spoke about painting, colour stratification, afterthoughts and some interesting effects. It was, happily, a good reason to challenge the hot weather of these past few days and see the show within tomorrow.
Monica Lombardi