The Editorial: Pretence. Plastic.
It's likely that we've all sat in a Louis Ghost chair. Every fighetto and fighetta in Milan has one or two ironically hanging around their "design" apartment. For me, the first time was a few years back at a beach house in Tuscany adorned with iridescent shells and pastel pictures of boats that seemed to exist only to forcibly remind everyone inside that "you're on holiday, AT THE BEACH, goddamnit". Two Louis Ghost chairs sat, noses upturned, at either end of a long table flanked by another six, less stately (but also clear plastic) Kartell chairs. "This place is POSH, goddamnit," they said, hollowly.
For a piece of iconic "design" (an irksome classification, since everything man-made is designed, and is therefore design), the Louis Chair is incredibly derivative. It is an old, established form rendered in new material. It is invisible, yet its symbolic intentions are crystal clear. It was the perfect companion to the literal gaudiness of shells and pastel boats, as it is the perfect companion to a kitschy nail salon decorated with tropical plants and smelling of acetone, as it is the perfect companion to the generic posters and bad brochures of a second-rate travel agency. The Ghost chair is pretence in plastic. Nothing more.
And although the chair has lost must of the ooh-aah, genius gee-whiz novelty it once had, it has unequivocally become an instantly recognisable classic. An icon not only for Kartell and Starck, but for the 2000s and for contemporary Italian design. And it will be the first ugly thing your kids sell for 50¢ at a garage sale when you die.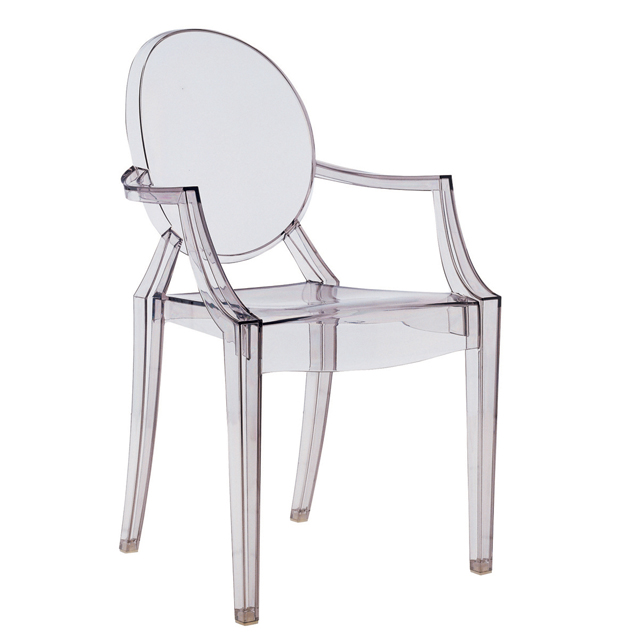 So, to honour this extraordinary object, artist Simon Martin this week opened an exhibition at Collective Gallery in Edinburgh focusing squarely on it. And while Scotland may not be the design powerhouse Italy is (was?), its artists are positively on fire. Plus, a hearty mix of whisky and bluntness might be just what the doctor ordered to knock some sense back into Italian design.
The exhibition is brilliantly critical. Although we've all probably given the Ghost at least some thought –certainly most designers have– but what an enigma it is! Deliberate, shamelessly appropriated, trapped in the present and yet thoroughly a relic of the past. Ugly. Stunningly gorgeous. Packed with history. Meaningless. In a short documentary, Martin juxtaposes the Ghost with plastic (ceramic?) lawn gnomes and their accompanying tree-trunk tables, African headrests, and a work by Donald Judd. Plastic wood. Wooden box. Box as symbol. Symbol as chair. And what it all does is call into question the very reasons for which we'd value such an object in the first place. It is the purest, clearest expression of our obsessive yet unthinking attachment to symbol. Perhaps ever. Why this objectively ugly chair has any value at all is pure sociological, anthropological, psychological magic.
While he may be a massive sellout (good businessman?), Philippe Starck is nothing if not an excellent designer. A designer who is extremely easy to hate for unleashing loads of ugly things on the world, but a very, very clever one, indeed. Maybe his snarky materialism–his oft-repeated mantra, after all, is "everything I make is absolutely unnecessary"–has actually been about coming to grips with the ills of materialism. Just maybe.
Tag Christof